Stickless

Where Next?
Bob Williams
Sun 22 Aug 2021 09:55
Position: Alongside RSAYS, Adelaide
Wind: NW F4 Sea: calm Swell: nil
Weather: mostly sunny, mild
The major achievement for this week has been unstepping the mast. It now lies in trestles in the Squadron's mast area. I have stripped all the fittings off the mast including the spreaders n preparation for painting. I was not originally intending to remove the spreaders, however, on inspection one of the tangs on the starboard spreader fitting proved to have a significant amount of corrosion which needs to be repaired. I figured welding in situ was not an option as it would most likely scorch the timber mast, if not set fire to it, so for the last two days I have struggled with stainless steel bolts frozen into aluminium plugs that spread the load from the shrouds to the timber mast. Overall it is a well designed fitting but it is unfortunate that whoever made the mast chose to mix stainless bolts with aluminium … always a bad mix in a salt water environment. It took me the better part of a day to remove the first bolt but, once I had worked out how to remove that one, I used the same method on the rest of them and had the remaining seven bolts out this afternoon.
Now I need to paint the mast and have the tang fitting repaired. Once that is done I can start putting it all back together again.
All is well.
Sylph's mast lying on trestles: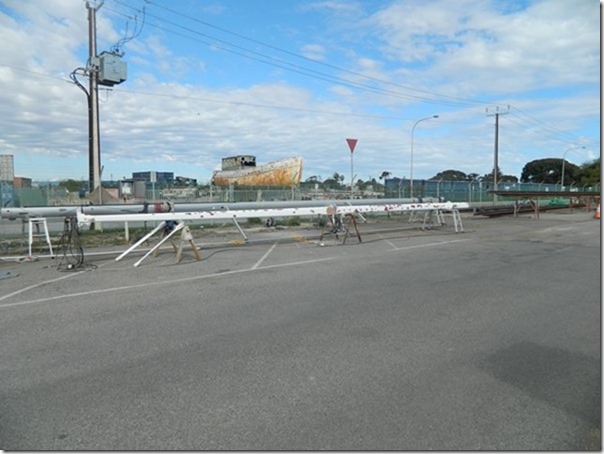 The spreaders detached from mast:
Where they came from:
The rusty tang:
---