My first days of the Season

Dawnbreaker
Lars Alfredson
Thu 15 Jan 2015 21:09
POS 32:06.0430S 152:43.6627E
9/1-15: Efter en lång flygresa på ca 40 timmar kom jag fram till den
lilla stranden med mina tunga väskor.
Där kommer en brun Lars åkande i gummibåten med ett stort leende. Jag
blev varmt välkomnad av Lasse, min efterlängtade Tonton och Steve från
Australien. Självklart spelades Proud Mary på stereon.
Vi hann inte mycket mer än att öppna en öl tills seglena va ute och vi
va nu påväg till Rushcutter Bay Marina.
Vi blev serverade en utsökt middag lagad av Tonton och ett antal flaskor
vin gick åt.
Det blev en väldigt tidig kväll kan man väl säga när man insåg att solen
hade gått upp innan man va i säng.
10/1-15: Vi åt lunch med Lasses dotter Hanna innan vi vinkade av han.
Det blev en tidig kväll efter ännu en god middag.
11/1-15: Vi tog bussen in till Sydney. Tog en promenad i delen kallad
The Rocks, den delen av stan som de fortfarande bevarat alla de gamla
byggnaderna.
Steve hade pratat om en restaurant/bar där man hade utsikt över både
bron och opera huset. Han ljög ju inte, om man kollade noga så gjorde
man faktiskt det, men det va knappt.
Vi tog en härlig promenad tillbaka genom parker och förbi opera huset.
Lars son Kalle med flickvännen Anna kom till båten på kvällen.
13/1-15: Efter att elektriken lagat autopiloten gick vi en härlig
promenad då vi bestämt oss för att ta färjan någonstans jag inte vet. Då
det inte gick någon färja gick vi tillbaka till hamnen och åt lunch och
drack öl. Senare kom Anna och Kalle tillbaka till båten med svenska
Malin och hennes pojkvän Tom. Drack goda öl innan vi åkte till stan för
en rolig utekväll.
14/1-15: Efter att vi lyckades komma upp va det dags att lägga loss.
Hade en underbar segling genom Sydney! Det är en sån häftig känsla att
segla genom en stor stad.
Vi ankrade i en liten vik där vi åt lunch som Anna och Kalle lagat.
Efter att ha samlat lite mod efter allt haj prat hoppade vi i vattnet
innan vi seglade vidare till Manly.
Det va en ganska modern stad men med ett lugn. Vi åt middag i stan innan
vi åkte tillbaka till båten.
15/1-15: Tyvärr va det dags att vinka av Steve som skulle åt annat håll.
Äntligen har vi börjat seglingen! Nu är påväg norr! Jag är hemma igen :)
Sanna.
English translation:
9/1-15. After a 40 hour long flight I arrived to a small beach in Botany Bay with my heavy luggage.
There a brown and smiling Lars picked me up in the Dinghy. On board I was heartily greeted by Lasse and my longed for Tonton and also Steve from Australia. Off course "Proud Mary" was played on the stereo.
We just had time to cork up a beer before the sails were out and we headed for Sydney harbour and a marina in Rushcutter Bay.  Tonton served us a nice dinner accompanied with a few bottles of wine. It became an early night when the sun was up before we got to bed.
10/1-15. We had lunch with Lasses daughter Hanna before Lasse left the boat with her. An early evening after another nice dinner.
11/1-15. We took the bus in to Sydney town center. We took a walk around an area called "The Rocks" by the harbour. There the old houses have been kept. Steve had been talking about a restaurant/bar where you could see both the Opera house and the Har :-) bour bridge.
He was right, you could see both but just.
After lunch we had a nice walk back to our Marina via the Opera house and the Botanical garden.
In the evening Lars son Kalle with girlfriend Anna arrived from the airport.
13/1-15. After the electric man had fixed our autopilot we went for a nice walk that ended up in our Marina again. We had decided to take
the ferry to somewhere. No ferry came so we walked back for beers and lunch.
Later Kalle and Anna came back to the boat with swedish Malin and her boyfriend Tom. We had a few beers before going out on town for a good night out.
14/1-15. When we managed to get out of bed it was time to cast off. we had a wonderfull sail through Sydney! A fantastic feeling sailing through a big city.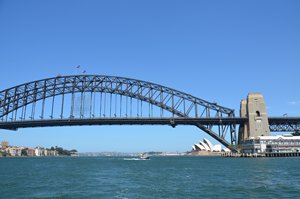 We anchored in a small bay for lunch, cooked by Kalle and Anna. After lunch we gathered some courage after all the "Shark" talk and jumped in the water before we continued to Manly.
Manly is mostly modern and full of relaxed people. After a walk and dinner in town we returned to the boat.
15/1-15. I was sorry to wave goodbye to Steve that was going in another direction.
Finally we have started the sail to the North. I am home again :)
Sanna
---