Malolo Island

Dawnbreaker
Lars Alfredson
Wed 12 Jun 2013 06:42
Pos 17:44.339S 177:08.868E
20130611 Tuesday
We're off again this time further around the adjoining island of Malolo Levu, stopping off on a reef on the way for the usual snorkelling before lunching aboard on the way.
I see my first Ray that scuttles of into the deep before I can get my camera ready. The reefs are all very similar lots of dead and broken coral on top and with the living in clumps on top and down the sides, visibility down to three metres
While becoming familiar with most of the fish there is always something new and this time, it comes in the form of some very exotic feather corals and large puffer fish with its big rubber lips and deflated spines. After trying to outstare the camera for a couple of second, giving me time to "get him" he chickens out and disappears into the gloom.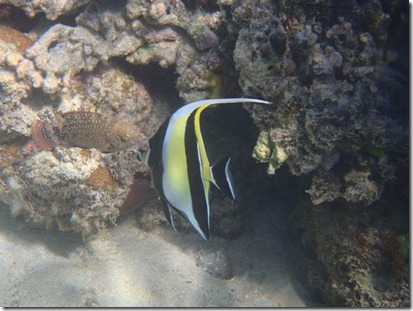 Feather coral ? Not the puffer fish. (regretably erased chip)
Lars has more interesting news in that we had the company of a black tipped reef shark during our tour. Ah well! What you don't see can hurt you, can it? While we dine at anchor we are buzzed by a helicopter and a sea plane that pass over us.
Off we go around the corner to the very exclusive Likuliku Lagoon Resort with its "Burse" (Chalets") extending out into the sea. Anchoring off the beach we soon hear the noise of a helicopter as it comes into land. With it the end of the beach becomes a hive of activity with golf carts bringing luggage and passenger to board and with a roar of engine it up and away.
We were not welcome! 900 GBP per day for one of these
No soon had he gone than a seaplane arrives landing not far from us and taxiing to the Resort pontoon. Depositing his passenger he off an away again. Then a large catamaran Ferry to a halt with a swarm of motor launches from the resort taking off workers and handing over bags of rubbish to be disposed of back on the mainland.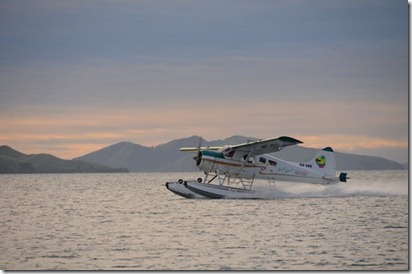 Taxi service from Nadi Airport
It's like the M25 here! We decide to go ashore and pay a visit to a bar located on the end of the jetty and have a nose around. Putting our Nr1 Red Sea Rig on and clean underwear we roll up to the pontoon. A gentleman stationed there inquires if we are picking someone up.
No says we, then go says he. This is a private resort. Evidently you have to arrive by air to get any credence and definitely be rich (We checked on the prices £900 per night) and possibly famous. Though how he failed to recognise Arnold Swartzeneger and Ernest Hemingway we can't understand.
We decided to push the boat. The rest of the pork chops surfaced and we added a soupcon of curry powder to the sauce we know how to live. I bet they were on jam sandwiches over the road!! If you're feeling flush try a look at www.likuliku.com the name means "calm lagoon" and has quite a history as a base for war canoes.
Ernest Hemingway
---