Sailing through the hole. day 3

Dawnbreaker
Lars Alfredson
Sun 2 Nov 2014 02:08
POS 35:50.67S 174:31.98E
Great sailing day. Decided to go as far south as the day and wind would carry us. Sailing by Cape Brett through the hole in the rock.
It was tight, but Lars made it happen as magic.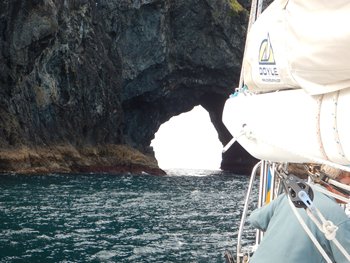 Strong aft wind permitted almost 10 knots downwind speed. KKKK the big discussion on board seemed to be around apparent and true wind readings.
It was mostly in Swedish hahahahaha
At nightfall we reached Urquharts Bay at the river mouth off Whangarei.
Happy hour on a G&T and Spaghetti Bolognese for early dinner. It might come as a surprise to you readers, but I have imposed a rather healthy Menu this time.
Fresh fruits, salad and vegetables. Today though I must have had a bad night. Cooked backed beans ..... voluntarily... for breakfast with back-bacon, eggs and grilled tomatoes
Lars really enjoys baked beans Lasse enjoying to be finally sailing, even steering two handed.
---