Saturday Nov 27 New Crew

Dawnbreaker
Lars Alfredson
Sat 27 Nov 2010 19:28
(English to follow)
Lördag 27 November
Då har vi äntligen kommit ner till Pria på Kap Verde.
Resan blevstrapatsrik med förlorad bagage i Köpenhamn som innehöll en rejäl vinprovning över tyskt luftrum.
I och med bagaget fick Tomas,Peter och Eric göra följe med Jonas på dennes senare flight till Pria.
Lyckan stod oss bi då det visade sig att Tomas hade ett "magiskt kort" som innebar fritt inträde till VIP-loungen :))
Detta utnyttjade vi till fullo. Lars mötte upp oss med dingen vid 3-tiden på natten.
Sammakomsten firades med kall öl.
Vi vaknade upp till 30 graders värme och fantasktikt väder.
Frukost intogs i sittbrunn samtidigt som vi gjorde klart inköpslistan för Atlant överfarten.
Svarttaxi till marknaden.
Frukt,grönsaker och annat samsades med flugor i de olika stånden.
Massor av kvinnor försökte förmå oss att handla i just deras stånd.
Sedan vidare till det lilla "supermarket". Vi avärden från affären kryllade det av "hjälpsamma" människor som
ville hjälpa till att bära varorna.
I detta kaos kände Jonas pillande fingrar i sin ficka.En vild jakt påbörjades in i gränderna.
Tyvärr är inte Jonas i gammalt gottslag längre utan kom lite moloken lunkande tillbaka, 50 eur fattigare.
Resten av dagen har utnyttjats till puts och svabb för att få bort den röda flygsanden (Kalleputs, detta skulle ju du fixat tidigare)
Nu väntar dusch och transport till centrum för middag. Sedan skall väskorna (förhoppningsvis) hämtas ut på flygplatsen.
Vi planerar att lämna Kap Verde imorgon söndag för vår Atlant överfart.
Varma hälsningar,
Eric,Lars,Tomas,Jonas och Peter
Finally we got away. Leaving Sweden in - 8C and snow. We lost our bags in Copenhagen, lost our judgement over Germany due to extensive wine-testing, missed the flight in Lisbon.
Somehow we arrived in Praia at 3.30 in the morning. Brother Lars picked us up in the dinghy and after a nightcap we dozed of rocked by a gentle swell from Africa.
We woke up to sunshine and + 30C. After breakfast we took a black cab to the market to top up ur stores. The place was crazy, peope everywhere. We got what we wanted among filthy stands , flies and shouting women. Outside the supermarket Jonas suddenly shouted and took off in a sprint that Usain Bolt had been proud of. A pickpocket put his hand in Jonas´pocket and fled. Not a chance to catch him in the alleys so Jonas returned 50 € poorer.
We retired to the boat and had a nice omelette and a beer follwed by a well earned nap. Now we are all fresh. Also the boat after a thorough cleaning, it was full of red african sand. The earlier crew had missed out on the polishing, strange as Kalle the putzmeister had been on board.
Now it´s Happy Hour and then we´ll go to the airport to (hopefully) pick up our bags. Dinner and then we´ll check out town.
Tomorrow we set sail for Brazil.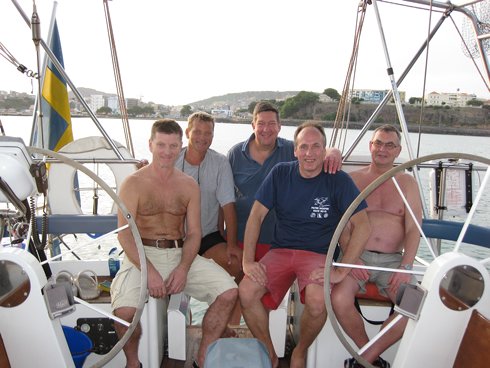 ---