Sailing from Fatu Hiva to Tahiti

Dawnbreaker
Lars Alfredson
Thu 31 Jan 2013 23:39
Pos 17:35.11S 149:37.00W
Marina Taina, Papeete
Land i sikte! Översegling Fatu Hiva, Marquises - Tahiti, 850 NM, 21-30 Jan
Land O'hoj! Sailing from Fatu-Hiva, Marquesas –Tahiti, 850 NM, 21-30 January
Tahiti dyker fram ur molnen vid 7-tiden. Skönt att vi snart är framme. Bara 40 sjömil
kvar till Marina Taina; dusch, land-el, restaurang, god nybryggd öl (franska dyra sura
pisseviner är vi ordentligt förvånat besvikna på) , hyfsad internet, Carrefour, nytt
storsegel, fixa ankarrulle och Mr Vang (kicken), storstädning, storhandling, fylla
vatten, köpa tax free diesel & vin/sprit …. Papeete är den enda riktiga staden i hela
Franska Polynesien har vi nu konstaterat.
Tahiti appears from the clouds at 7 am. Feeles good to be there soon. Only 40 NM to go
Marina Taina and, showers, shore power, restaurants and nice beer (we are dissapointed with
expensive bad quality french wines), decent internet, Carrefour, new mainsail, repair of anchor roller
and Mr Wang (the vang), big clean, big shopping, fill water and diesel and drinks.
Papeete is the only proper town in all of French Polynesia.
Solen skiner, har den gjort i princip varje dag, trots att det ska vara regnsäsong nu.
Lite regnbyar och ett par ordentliga tropiska skyfall (skönt att få båten och besättning
avsaltad) bara. Ordentlig motvind till Marquesas men när vi nu skulle njuta av
samma vind tillbaka, trodde vi, har det för det mesta varit ingen eller lite vind, så
även just nu. Blankt hav, alla segel inrullade och motorn puttrar på 1500 varv (snart
140 timmar nu).
The sun is shining. It has done that almost every day in spite of it being the rain season now.
Some rain showers and a couple of tropical downpours (nice to wash the salt off boat and crew).
Strong headwinds going to the Marquesas but when we are going to enjoy the same winds on the return trip,
it died out and we were left with light or no winds. Now the sea is calm, the sails are furled and the engine is
running on economy speed.
Keeping cool
Från Raroia 25 jan (då hade vi 450 NM kvar), via Makemo vidare till nu en av våra
absoluta favoriter, South Passage - Fakarava.
From Raroia the 25th, via Makemo to one of our favourites, Fakarava south passage.
27, den dagen startade med en fantastisk dubbelregnbåge. Ett gott omen tydligen.
Fortsatte med en en helt osannolik upplevelse i form av en fiskorgie runt hela båten
strax utanför atollen Fakarava. Havet formligen kokade av bonitos (typ liten tonfisk)
och jagad småfisk och himlen var fylld glupska fåglar som också tog för sig av
jättestimmet av uppjagad totalt förvirrad småfisk.
The 27th started with a fantastic double rainbow. A good sign. It continued with an unbelievable
fish orgie around the boat just before we got to Fakarava. The sea was boiling with bonitos chasing
small fish and the sky was filled with birds taking their pick in the frenzy.
Solen sken från klarblå himmel, medström genom South Passage (lugnt och fint)
in till den vackra lagunen med kristallklart vatten. Strömmen ska gå från oceanen in i
lagunen för att sikten ska vara optimal har vi lärt oss nu. Och det är i passagerna
mångfalden av spännande fisk, stora som små, och fina koraller som klär kanter och
botten är som störst, bäst och friskast. South Passage är vår absolut finaste
undervattensupplevelse. Kombinationen av fisk, koraller plus att kunna driva med
strömmen i kristallklar ljummet vatten in i lagunen är oslagbar.
Här har vi njutit av korallfisk och vackra koraller men även haft närkontakt med storvilt
som Manta Ray, Eagle Ray, Napoleon och ….. haj.
The sun was shining from a blue sky, and the current was with us through the pass (nice and calm)
into the beautiful lagoon with cristal clear water. For diving and snorkeling you want the
current to run in to the lagoon for the clearest water. It is in these passes that the variation of exciting
fishes and healthy corals is the best.
Fakarava's south pass is our best under water experience so far. The combination of beautiful
fish and corals and drifting with the current in to the lagoon is unbeatable. Her we have corals and coral
fish but also had close contact with big guys like Manta Rays, Eagle Rays, Napoleons and ...... sharks.
Det formligen vimlar av orädd haj i vattnet. Runt båten kryssar alltid ett antal revhajar
i avvaktan på smått och gott. Kändes lite obehagligt i början men nu har vi vant oss
vid att ha de simmande runt omkring oss.
The water is full of curious sharks. Around the boat there is always a number of reef sharks cruising
around waiting for a tidbit. It felt a bit scary at first but now we are used to have them swimming around us.
Dykning på absolut väldsklass-toppnivå. Grete sköter dinghyn och släpper av oss
i strömmen utanför passet. Lasse och jag (Fred) sjunker ner till botten på ca 20 m,
glider sakta med strömmen strax ovanför botten ner mot ca 30 m. Och helt plötsligt
är det som en hel vägg av haj som täcker hela cyklopsynfältet. Haj överallt som lojt
kryssar eller står still i strömmen. Och genom detta glider vi sakta, haj över, under,
på sidorna, på botten, grottor … nära, mycket nära. Overkligt! Vilken upplevelse.
Dessutom funkar Lasses kamera denna här gången. Det är plus 40 hajar på ett av
fotona (nej, det är inget fotomontage även om det ser så ut).
World class diving. Grete tows the dinghy while snorkeling on the surface. Lars and Fred goes down
to the bottom at 20 m and rides with the current down to approx. 30 m. Suddenly there is like a
wall of sharks in front of us. We are surrounded of sharks in all directions, over and under in front and
behind, close so you can almost touch them. Unreal, what an experience. The camera is clicking away.
On one photo we count more than 40 sharks (it is not a montage).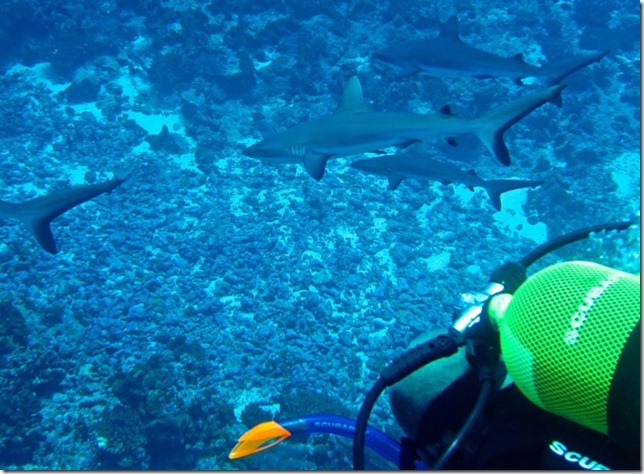 Runt hörnet, i strömmen, väntar dingyn perfekt placerad av Grete, hängande i en stropp
från ett järnrör. Men var är Grete???? Då hör vi ett tjut från stranden längre in och en
bit bort: "Ta dingyn!!!". Vad hände? Jo Grete lyckades kasta dinghytampens ögla runt
stolpen när hon snorklande gled förbi med dingyn på släp … men hon kunde inte
ta sig upp i den kraftiga strömmen och när de dyra bikinibrallorna dessutom var på
vippen att ta sig en simtur på egen hand så var det dags att släppa taget. Ja man
kan ju föreställa sig synen; Grete med bar underdel vandrande in till dykcentret och be
om hjälp att hämta en dingy som drivit iväg i strömmen. Tur stolpen höll.
Tahiti nästa. Fint väder men det har tydligen varit riktigt tropiskt skitväder där och
enligt väderprognosen ska det börja blåsa ordentligt, 35 knop, de närmaste dagarna.
Vi tar skydd i Marina Taina.
Around the corner the dinghy is waiting, perfectly placed by Grete, tied to a pole. But where is Grete??
Getting close we hear a scream from the beach: grab the dinghy!. What happened? Well, Grete managed
to tie the dinghy to the pole but did not manage to climb aboard in the powerful current. When her
bikini bottoms started to come off she let go and swam for the beach. That would have been a sight,
Grete walking up to the dive center with no bikini bottoms asking for help to get to the dinghy, tied
up to a pole 200 m out in the water.
Next stop Tahiti. The weather is nice, but apparently it has been a rainy January in Papeete. The weather
report predicts hard winds, +35 knots for the coming days.
We will be sheltering in Marina Taina.
Hälsningar / Greetings
Lasse, Grete och Fred
---