Maragogi, Alagoas

Dawnbreaker
Lars Alfredson
Wed 26 Jan 2011 20:04
Finally after being to Recife many times and after an all-nighter we arrived at Maragogi this morning.
A quick 24 hour stop to snorkel in the natural pools of the reefs. Tomorrow we continue south to
Maceio and weekend at Porto dos Franceses, a in- place among the local nature and beach lovers.
Lars and I took the dinghy out to the lagoons for snorkelling and underwater pictures of the flora and fauna.
Dinner was chicken parmegiana with roasted potatoes or potato as some on the island prefer ...
With a nice bottle of Tempranillo red vine from the Captain's reserved cellar ( under my bunk).
As we are midst summer vacation in Brazil there was a huge crowd posing for underwater pictures
with hand-feed fish. Sadly the reef and coral is in a bad shape but water was crystal clear and hot-tub hot ....

Maragogi Wecoming committee

Taxi boat Feeding the fishes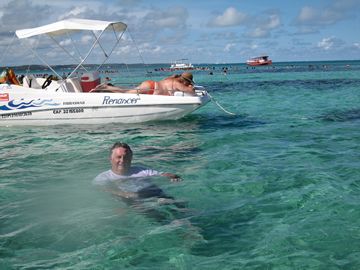 Shaped by the wawes Walruss meeting Sea Lion!
---