Bluff / Invercargill

Dawnbreaker
Lars Alfredson
Fri 28 Nov 2014 05:05
Bluff, New Zealand
Bluff is a town and seaport in the Southland region, on the southern coast of the South Island of New Zealand. It is the southern-most town in New Zealand (excluding Oban). According to the 2006 census, the usually resident population was 1,850, a decrease of 85 since 2001.
Dawnbreaker moored at the Ferry terminal just steps from the pub and internet wifi …. Kkkkk
The Bluff area was one of the earliest areas of New Zealand where a European presence became established. The first ship known to have entered the harbour was the Perseverance in 1813, in search of flax trading possibilities, with the first European settlers arriving in 1823 or 1824. Bluff is 30 km (20 mi) by road from Invercargill.
The Central Hotel, destroyed by fire for 3 times ….
Reminiscent buildings of the good times. Old Post Office became a Backpackers lodge. $3 hottt showers
Bluff is dominated by Bluff Hill / Motupohue (standing at 265 m (870 ft)), which provides some shelter from the prevailing westerly winds. There is a world-class walk along the shore through native bush up to this point. The town is named for this bluff, which was known to early whalers as Old Man's Bluff or Old Man Bluff. East across the entry channel from Bluff is Tiwai Point, home to New Zealand's only aluminium smelter and its wharf. Electricity is supplied by the Manapouri Hydroelectric Power Station in Fiordland National Park.
Bluff oysters are renowned for their succulence and flavour, and are considered a delicacy nationwide, with Bluff holding an annual oyster festival. The oyster quota was severely reduced during the 1990s due to the effects of the toxic protozoan parasite Bonamia exitiosa upon the oyster beds.
Among the attractions of the town was the paua house, created by Fred and Myrtle Flutey. This was an ordinary bungalow transformed by having the outside walls totally covered in paua shells. The house became a museum after the death of the owners, but was sold and in March 2007 the exhibits removed to Christchurch.
Tomorrow we will visit the Maritime museum and do our last shopping before we departure to Australia on December 1st. Customs and Immigration process initiated already. Fuel, food and booth.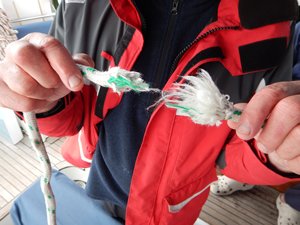 Damm cheap ropes ….. hummm … not sure I will try it!
---