Ilha da Gipoia 30032011 Wednesday

Dawnbreaker
Lars Alfredson
Wed 30 Mar 2011 15:26
Thomas takes the dinghy to give our Cans to the lady in the cabin onshore (They can get money for recycling them)
this has a double advantage of reducing the garbage we have to carry and helping them out in the cash department.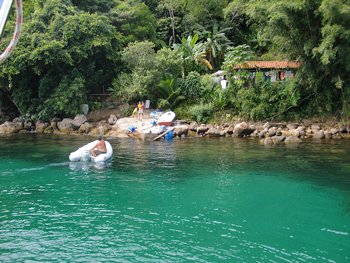 Rubbish out Rubbish in
We up anchor and Thomas catches us up in the dinghy as we set a northerly course for Ilha da Gipoia.
After the nights rain it's a lovely sunny day with high whispy clouds over the sea, although low clouds obscure the mountain tops.
The sea is like glass as we cut through the reflected sky past a myriad of smaller islands with their coverings
of coconut palms and other trees of the rain forest.
We anchor in a secluded bay (Praia Dentista) of white sands and palm trees complete with floating bar. Snorkelling gear
on and it's off to explore the shoreline which doesn't disappoint with its mix of coral and seaweed teaming with fish life.
The now inevitable schools of sergeant majors, beautiful black Butterfly fish with iridescent yellow stripes, parrot fish,
yellow tail and cuttlefish, which when chased turn bright pink.
We've lost Thomas, so having swum around the bay Lars and I find ourselves at the floating bar.
I don't know whose more pleased, us or "mine host" and he rushes forward to help take care of our masks,
fins and snorkels. I explain in my fluent gesticulations that we have no money with us but will return later with some from the boat.
"Not a problem" I translate, the Umbrella is raised at our table and two crispy chilled golden nectars appear.
We look for Thomas and sight him on the beach and signal, but realise our effort are in vain as without his glasses he's as blind as a bat.
"Mine host" not wishing to loose his best and only customers produces and pours another beer before we can stop him,
downing this we get our gear on and swim back to the boat to find Thomas aboard.
We return to the Bar "en masse", a beer, and battered squid rings, followed by Caprihinas (Plus a freebie for best customers).
As we lounge, the sky darkens and the impending rainstorm advances somewhat more rapidly than we had anticipated.
Quickly settling our bill we race back to rescue my now dry bedding.
In the haste to get aboard Lars jerks on the Dinghies painter and from standing I assume a graceful arc falling
backward into the water, much to the amusement of all.
Scrambling aboard we hastily get my stuff below as the storm strikes, with considerable ferocity.
Upping anchor we head off into the downpour and with winds now of hurricane proportions, seeking a more sheltered anchorage.
Diving masks are the order of the day as visibility is so impaired by the driving rain. We manage to get a headsail
up and are doing 8 knots screaming along on the squall. Swinging in behind a headland we drop anchor in the deluge,
fortunately the rain is relatively warm as we are all running round in bathers, the only suitable dress for this occasion,
though I wouldn't recommend it in the North Sea
Its time for a late lunch, Sausage, onions and boiled potatoes, with a nice red of course, while the rain batters down on the deck head.
I write the Blog, Lars adopts the horizontal, and Thomas retreats to his bunk and computer and the rain just increases
with the intensity of a thousand frustrated firemen and their hoses!
Thomas stirs and starts cooking dinner, a Brasilian version of Cumberland Sausage with potatoes and friend onions and very tasty too.
As the rain continues its time to introduce Thomas to the wonders of the"Mexican Train" game. Lars starts winning
(as usual) and there is some debate regarding the rules which reaches its climax when he demands we call Shan until
I pointed out the hour of the day and the sort of response he would probably get if we woke her at 2 in the morning!
We call a halt with 4 games to Lars 1 to Thomas and 1 for me as tiredness and the requisite alcohol consumption take
their toll. As the rain has fades away and the stars come out to play we await to see what the morrow may bring.
Bob the Blog
---