Vavau Island

Dawnbreaker
Lars Alfredson
Tue 14 May 2013 00:23
20130512 Sunday – Where did Saturday go? - It's a Date Line thing
The Archipelago is a bit of a surprise as the islands rise vertically from the sea with their bases undercut by wave action and cliffs pockmarked
with caves reminding us of Niue, the island thrust upward from the sea.
The waterways are very deep and as we weave our way through the myriad of islands, getting a brief escort of dolphin to guide us.
Squeezing ourselves between two more islands we pop out into a large natural harbour and our destination,
the village of Neisa on the island of Vava'u in this southern Tongan group
It must be Sunday as the choir in the church over the standing over the bay are going at full bore and singing welsh hymns to boot!
There are quite a few yachts in the harbour plus a fleet of charter Catamarans. Dropping anchor, the clear water is full of moon jelly fish.
They're alright, they don't sting, and we have them at home. We have heard this one before, and remind Lars of a certain incident
in the Mediterranean when he ended up with a very nasty scar.
We watch in anticipation as he dives in and swims his way through a thick soup of jellies with no adverse result and gingerly lower ourselves in.
Yeah OK but were not totally convinced and the swim is a little half hearted.
Ashore to the Yacht Club and they are busy blowing up balloons on the veranda bar. Its Mothers Day we're informed and they will be doing
a dinner special tonight or $20, although the Bar will be open at 3:30.
Wandering up onto the main road we discover a ghost village. Everything shuts on Sunday and no one is allowed to do any work.
We do a rece' and find banks with ATMs that work, an ancient Post Office and the only sign of life at the Fire station.
Wandering back there's a sign for a Pool Bar down some steps. Clink! The unmistakable sounds of a Bar in action.
Hastening down the step we spy our target but are warned to beware of a large crab which is weaving is way up the steps.
A few "Maka's" , the local brew (although actually made in New Zealand and shipped in) and as its nearly happy hour so we head back
stopping by the Frenchman's yacht and inviting him and his young lady crew to join us
We discover she is of Breton parentage and having jumped ship from a rusting wreck of yacht moved onto Antoine's yacht.
A free spirit she has been travelling around the world especially China for which she has great affinity.
He is/was a photographer for Paris Match the magazine which his father had set up many years ago..
In his late 60's, he's been here for some 14 years and its beginning to show. He has his wife installed in a hut ashore and though he spends
most of his time on the yacht. The yacht is in a bit of a state having lost its propeller when it was driven on the reefs in a cyclone,
but he's not bothered and it could be another 14 years before its fixed.
We celebrate Mothers Day at the club with Grete, our resident mother. Good food, a little champagne and a few bottles of wine later we make our way back.
The champagne appears to have had some effect, as Grete steps off the dinghy straight into the water, much to her surprise and
the amusement of the rest of us. Cameras are quick to flash and the moment is caught for posterity.
20130513 Monday
The town is a bustling scene, traffic everywhere café's filled and the market stalls full of exotic fruit and vegetable for sale.
The local arts and craft are on display and around the back of the market fish are being sorted and floor is covered with large red snappers.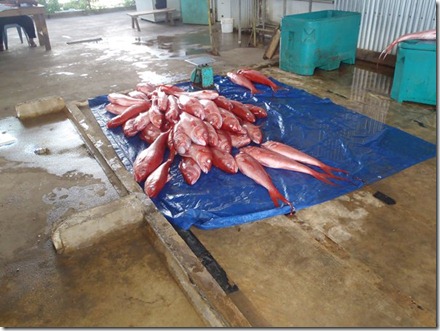 Having wandered about we are approached by a large local gentleman who says he can make flags and supply bread.
He is very proud of his two books filled with cards and comments from his previous yachtie customers.
In the event he ends up onboard and while we order a Vanuatu flag he invites us to come to his house for a traditional dinner and home made beer
the following day. Fred and Grete decline, this may be a wise move, though Lars and I accept the offer.
Shortly after he leaves there is a cry from the shore, it's Doug, the brother of an Australian friend of Fred and Grete's who he has been trying to contact.
He is now married to a local girl and they join us for lunch after which we're invited back to their house.
So we jump in the back of the "Ute" pickup and head for the hills. Their split level house overlooks a large creek and their land runs
down to a rocky mangrove beach. The rum and wine begins to flow and I find myself acting as perch for a young chick who mother
had died and thinks humans are its parents, most odd.
Enough excitement for one day we return to the yacht for dinner a little light reading a piece of Shan's lemon drizzle cake, which is as fresh as the day it was made, then bed.
Bob the Blog
---