Taveuni Island

Dawnbreaker
Lars Alfredson
Sun 14 Jul 2013 02:36
Pos 16:56.04S 179:53.00E
20130709 Tuesday – Taveuni Island
Leaving our overnight anchorage in a downpour we head down to Vuna Point at the southern end of the island. The rain buckets down as we retreat into the wheelhouse and continues until we reach our destination at Paradise Resort.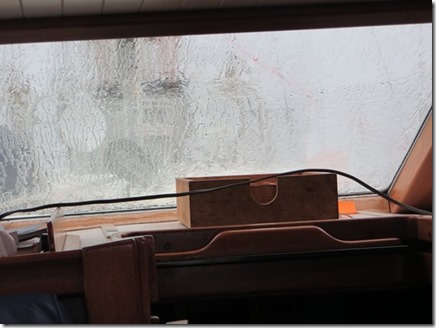 Rain Crossing the dateline again.
On our approach we are called on channel 16, and much to our surprise are guided to a mooring buoy and asked if we would like make use of their bar and restaurant. They evidently don't have an airstrip!
Paradise Resort Nice view from the pool
Once we are over our shock and the rain abates we take the dinghy ashore and are greeted by the Resort owners, Allan and Terri Gortan and their two massive Rhodesian ridgeback dogs. www.ParadiseinFiji.com
Allan the owner Rhodesian Ridgebacks
Tonton declares it our birthday venue and orders champagne and we all choose the full four course menu to compliment it. Fish balls for starters, followed by a choice of satay or a spicy Thai soup, then yellow fin tuna for main, all topped off with coconut crepes. We are given a nice table overlooking the sea and waited on, "hand and foot," by the staff.
Happy birthdays
Suddenly the peace is disturbed by the sound of kids shrieking and lights flashing, their beams cutting the night sky. They had all been given torches and sent on a frog hunt. The results seem to have been pretty successful as they were keen to show us!
First course. The alternate?
After an excellent evening socialising with Allan who advised us on the best dive and snorkelling sights, and with his guests, we returned to the yacht, our confidence in Resorts restored, though we have made a note to avoid those where the guests arrive by plane or helicopter!
Bob the Blog
---