Vava'u part 2.

Dawnbreaker
Lars Alfredson
Sun 19 May 2013 06:01
20130514 Tuesday
We're hailed from ashore by Alofi who has arrived with our newly made flag. Fred and Grete go ashore to meet Doug where they have been invited
out for the day and we are informed that we will be met at 4pm to be taken to Alofi's home for a meal.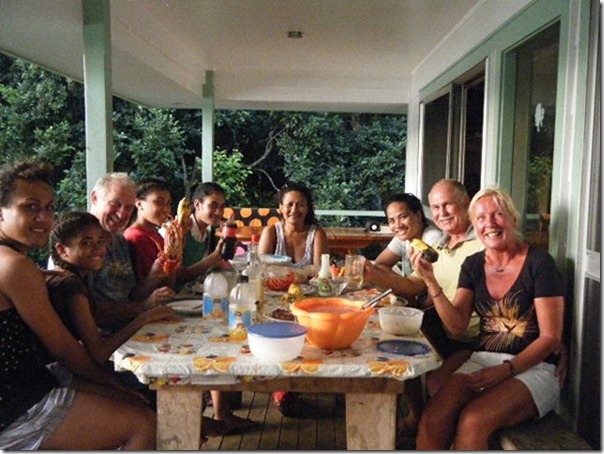 Fred and Grete with Dougs big family
Rain Home made Vanuatu flag
It's bucketing with rain during all these manoeuvres though fortunately as we live in bathing suits and the rain is warm the only hardship is in its intensity as it lashes down.
Four pm comes and we follow Alofi to his home. It's a typical concrete block and tin roof house, Pigs and chickens everywhere.
Curs of dogs skulking in the undergrowth and skinny kittens leaping about the place. It's muddy from the rain and the wildlife, as we leave our shoes at the door and enter.
There is a long table and benches in the kitchen area and we are led through to a larger living room.
Furnishings here consist of a table with a TV and hi-fi gear on it and matting on the floor. His wife and her sister are sitting on the floor,
the former with suitcase packed as she's off to a funeral on one of the other islands, the other swinging a "witches" broom to keep the flies at bay.
Alofis wife Dining Tongan style.
On a central mat are two enormous plates of food consisting of fish, chicken, tarrow, pasta and frankfurters!
A large plate of watermelon slices and a speciality, Papaya in warm coconut milk.
We want some to!
This for you to eat we are directed But what of the others? We enquire. No, all for you. Seated on the floor we manfully make a stab at it,
closely watched by the kids who have gathered around along with the rest of the family. It was rather like being in a gold fish bowl, keenly watched by the outside world.
Having made a tentative stab at the food, the Islands famous homebrew Kava arrives. It's in a large washing up size bowl complete with
the special drinking vessels that look like highly polished half coconut shells. Kava not to be confused with Cava is a muddy brown alcoholic liquid that tastes not unlike dishwater as we soon discover.
The Kava comes.
We are then shown a large painted wall hanging about the size of the floor we're sitting on. Made from beaten wood bark then painted
in traditional patterns. Ever the salesman he tries to impress upon us how good would be to by it as souvenir.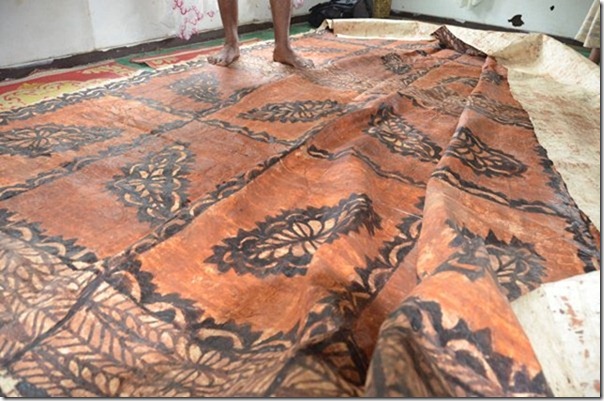 Beautiful Tapa.
As we leave all the kids are tucking into our leftovers so we don't feel so bad at our feeble efforts in consumption,
and the son-in-law is busy trying to consume the gallon or so of Kava he had brought in.
Heading speedily to the Pool bar we rapidly down a few "Maka's" We then exchange pleasantries and find a couple the wife Kay
is from Bridgend. Ironically he is drinking "Tafi" lager which we discover is not a Brains breweries secret marketing arrival but fittingly is Tongan for "the drink to have after Kava" how fitting!
20130515 Wednesday
Doug arrives in his pickup and we pile into the back ready for a bum bucking and back knackering tour around the island.
1st class travel
We stop at caves graves and beaches, spending a pleasant hour or so snorkelling before mounting up and heading off to beachside restaurant set in a botanical garden for lunch.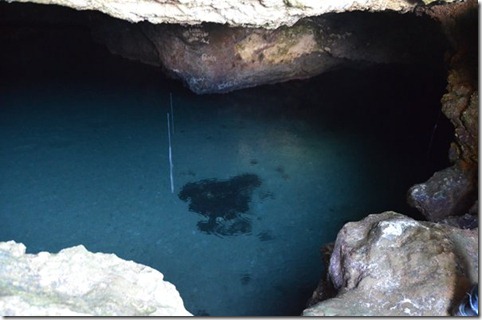 Fresh water cave Pig on the reef.
Suddenly the heavens open and the hosepipe of the gods does its job of soaking us. No matter, by the time we reach our destination
the sun has returned and with the 40kph breeze as we speed down the road we dried out.
The owner is retired director agriculture and he first planted the garden in the 70's. Well travelled, he spent a lot of time lecturing in Holland and obtaining scholarship for his students in Tonga.
Fona and our happy host Haniteli.
The "Fish and chips" are excellent, yellow find tuna and sweet potato chips and after a few glasses wine/beer to wash them down were off again finally arriving back in time for happy hour.
A shore trip ashore for sundowners returning aboard to each and retire.
20130516 Thursday - Reefs
After breakfast we motor over to the French yacht and invite Andre and Solenn to join us on a trip the "Japanese Garden", a large reef area between two islands said to be fantastic for snorkelling.
After an hour or so we arrive and anchor off one of the islands load up the dinghy and motor over to the reef.
Anchoring the dinghy we don our kit and drop off into the clear shallow water. The reef consists of a multitude of corals of differing shapes
and sizes. Brains, stag horn, and a peculiar flat topped mushroom shaped model. It's teaming with fish of an equal variety of shapes and sizes
along with blue and pink star fish and that. killer of reefs, the crown of thorns.
Coral Black terns ?
Cowrie shell
When you swim over them the smaller fish dash into the protection of coral branches with the exception of the clown fish that nestle in the
deadly tentacles of the large anemones which would quickly paralyse then eat any other type of fish that would venture into them
Time for lunch and so back to the yacht. After a suitable period to digest the same we venture out to another patch where we encounter
quite a strong current. Deciding to drift snorkel, Fred tows the dinghy behind him and we let the current do the work as we fly gracefully
over the reef. I'm filming and as we sneak up silently the fish are caught unawares and are captured "au natural" in my lens.
Pizzas ashore this evening.
Bob the Blog.
---