Withsundays

Dawnbreaker
Lars Alfredson
Tue 3 Mar 2015 04:06
We have not been very active on the blog in lieu of the facebook group "Dawnbreaker sailing around the world". But I will try to summarize our latest adventures. We have spent the last 3 weeks, island hopping in Whitsundays region after leaving Mackay. With new crew on board we set off into the party sunset region. This region is tourism driven with many resorts and cruises to the islands and the hook reef. Our detailed route you can track on the blog's map. The region is a living museum of old Withbread racing boats converted to backpackers liveaboard cruising around the tourist spots. For about AUS$300 backpackers can sail for about 3 days and party all night. We met several on different anchorages and have even joined British Defender where Martin challenged Tess, the deckhand, on a guitar duel. It was a fantastic night, talking to all sorts of people. Yes backpackers are too young and even Martin at 31 was OLD … kkkkk. We could not keep up with them drinking the horrible boxed wine (AUS$13 for 4l). We also approached another Withbread boat, Spank Me (Shank Me kkkk) a bit toooo friendly an lovelly captain. There is a story to this from the night after in Airlie. Suffice to say no comments ….
We had to wait for a new Wind Vane, as ours was damaged during an earlier storm. So we took off to Nara Inlet to explore the watersfalls, aboriginal historic site and shelter from Cyclone Mary's whiplashes.
We ended at Townsville after a lovely time at Hart Reef. Steve and Sanna left the boat. He wants to get some work before he rejoins us and Sanna is looking for her outback experience. Over the next few weeks we will explore the region and reefs between Townsville and Cairns, before Ivan returns home on the 12th of March.
Before we ended illegally in Australia, Lars and I had to submit a new visa / stay extension of 18 pages while floating at sea not to lose internet coverage. Now AUS$375 shorter. That's a lot of beer.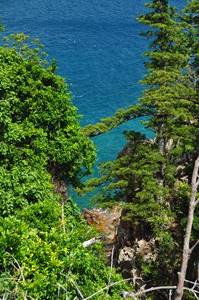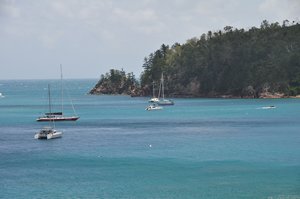 ---