Arrival Mar del Plata

Dawnbreaker
Lars Alfredson
Sat 22 Oct 2011 18:14
21102011
Having arrived as 2200 last night we were put on a mooring until this morning when at 1000 they opened the swing bridge to allow us into the marina.
It was a very tight squeeze in difficult conditions with cross wind and little room to manouvere. Having tried to back in onto a somewhat short pontoon
and pylons we had to concede defeat and enter bow first with inches to spare either side.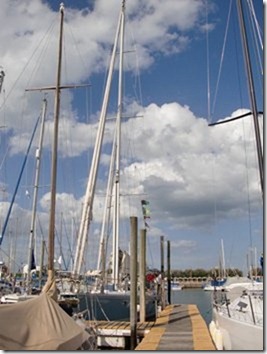 Having tied up it was Peter and I on scrubbing duties whilst Thomas and Lars headed out with the paperwork. On their return having promised not to go
to the Malvinas/Falkland islands from this port and since we had finished our labours it was off to the Yatch Club de Argentino for lunch.
The club is a considerable more modest than the one we had just left, and old wooden building next to three other clubs who share the marina.
We sat outside taking advantage of the sunshine and promptly got cracking on connect to their Wi-Fi system to down load E-mails and Skype our respectives.
Peters insatiable appetite meant asking for more butter so he could devour the left over rolls even though he'd eaten his lunch and a pudding
! he has now made his mark on the waiting staff as the butter boy. We returned back to the yacht for a little siesta before back to the club for the showers and to visit the bar.
Here we encounterd Thomas holding court with new found friends who invited us to join them at disco/club in town later, they had set up a surprise party
for the third member of their group and would be heading there after the dinner party.Needless to say nothing went to plan and they never made it to the club.
Bob the Blog
---