Praia do Frances

Dawnbreaker
Lars Alfredson
Mon 31 Jan 2011 18:34
ï

French Port, south of Maceio AL

Pos 09:46.03S 35:50.137W
Lazy sailing

French beach. The beach has a peculiarity: it is divided into two different parts, one protected by coral reefs,
more urbanised and the other calm and more savage and strong waves, proper for surfing.
The Beach The French

We spend the weekend at this unique reef formation and finally caught up with the french boats Grey Perl and Yacabu.
It's unique formation offers a wealth of seafood between the reef line and the 5 km beach. As usual Saturday was a feast.
Fresh lobster grilled on herb garlic butter. And of course good wine, company and long talks into the early morning.
Fresh Lobster Good friends


Sunday after a long walk along the beach (to our disappointment ..... litter, plastic bags and empty plastic containers
covered the beach. It always chocks me to see the impact of overpacking on the rivers and sea.
Lars made it back on foot. Torpedinho and myself continued on the dinghy to explore the river mouth and the shore mansions.

After getting a huge fresh fish we cooked a muqueca including the remaining lobster from the previous night.
A feast celebrated with a marvellous Cabernet wine from Gozo - the Captain already gave us a full geography lesson
about this island in Malta. Suffice to say we still continue to have a good laugh as in Portuguese the word means enjoyment,
but under a more colloquial use has other more "satisfaction" version ..... Kkkkkk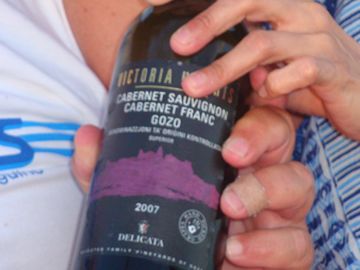 Moqueca Wine from Gozo

Moqueca (or Muqueca, is a traditional Brazilian seafood stew.
Brazilians have been making Moquecas for 300 years. It basically consists of fish, onions, garlic, tomatoes,
cilantro, coconut milk and additional ingredients. It is cooked slowly, with no water added.
The version of Moqueca made in Bahia is influenced by African cuisine. In addition to the basic ingredients,
palm oil (dendÃ), coconut milk, shrimp, or crab are added.
Tonton
---