Samoa

Dawnbreaker
Lars Alfredson
Thu 2 May 2013 05:44
Pos 13:49.76S 171:45.71W
Apia Harbour, Samoa
20130427 Saturday - At Sea
I retire to my bucking bunk. We are now on a predominantly starboard tack which means that without the bouncing I would fall out anyhow.
The leeboard is in but its height doesn't correspond to my elevation, so it's all bit dubious when coming down to land, whether the bunk will
still be there or I end up four feet lower on cabin soul, which could be a little painful.
Enough is enough so at 0200 I surface in time for my watch. The sun is now out and peace has settled on the world.
We have a steady 18 knots of wind driving us at 8+ seas are still in the three metre range but we're surfing along nicely and at this rate our ETA for Samoa is around 0700 tomorrow.
Apart from the odd rain squall the day progresses quietly, each to their own usually sunning between the showers and head down into a book.
20130428 Sunday – Land ho! Western Samoa
0500 I come up on shift relieving Lars. Winds have increased along with the seas as we bounce along at +9 kts.
Then in comes a rain squall along with a major wind shift which means getting on deck to sort out the sails and reset the preventer.
With winds gusting to 30 knots the boat accelerates to over 11 knots. It's a wild ride!
Soaked, having just gybed the main the winds change again. Back on deck and any dry bits that were missed on the previous trip
are now duly soaked. The good news is its 29C and the rain is about same temperature and the winds have settled to the 20's
0630 and I sight land and a beautiful sunrise illuminates a whole line of squalls which we are heading towards.
0730 The world has disappeared in wall of torrential rain and as it thunders down on the wheel house roof,
I shut the door and navigate from the inside instrumentation. Fortunately there are no major changes in wind direction though
it has increased to 28 knots gusting just over thirty.
We are now doing over 11 knots is a mist of rain, the good news is the autopilot (God bless 'im) is doing a sterling job of keeping us on track,
just as well, as the Island and everything else has disappeared from sight.
Lars joins me as the rain dies and the islands reappear. Fred seeing that the depth sounder has at last found the bottom at some 90 metres
(It doesn't like going over a 100 and we were in 6000 metres) sets to with the fishing rod and reels out a line.
The new Flag Land ho!
It's two hours later before we notice we have a bite, Fred oblivious to his foot injury which is healing slowly, leaps onto the sugar scoop and starts reeling in.
We have caught four foot of great eating, a Wahoo, already on its last legs by the time we get it aboard.
Fred hauling in a wahoo Lars with the knife
Fred retreats to get his foot seen to as Lars leaps forward knife in hand to set about reducing this prize specimen to two enormous filets, that would have kept any Chipshop stocked for a week.
1300 we arrive in port but where is the Marina? Dropping anchor we tentatively call the ports authority for health and customs clearance
as we understand nobody works on a Sunday we expect to be told to wait until Monday for clearance.
To our surprise, everyone is happy to oblige and as two catamarans have also arrived they circulate between us doing the necessary.
But something is not right; they insist it's the 29th? This cannot be, our computers, my wrist watch, my impeccable blog dating, disagree, what is going on?
For any of you that have atlases of any kind it's now time to send them to the shredder. Around 2009 Western Samoa decided it should
be more attached to New Zealand so for a start they all decided to change over and drive on the left hand side which meant they could
bring in cheap cars from their neighbour. Then just for good measure they shifted the International Date Line to their East so now they line up with NZ.
So in fact we had arrived on Monday, which explain the mystery, though we are a day older than we thought!
As for the Marina, a Cyclone went through around December that wrecked half of it and the other half is being used for a fishing competition that's being held all this week.
20130430 Tuesday -possibly
We explored the town, taking in the 0900 police parade to the government offices to raise the Flag, a daily custom.
They have a great band, but Lars still can't get used to policemen wearing frocks!
Men in frocks!!
We found the Wi-fi shop and I've even Skyped Shan, but in my enthusiasm forgot to check the time difference and had a somewhat
dozy response at 0230 UK time. For lunch we stop in a pizza place on the way back to the yacht. Just in time its seems as the heavens open up turning roads into rivers and the sky black.
And this is small pizza? When it rains it pours
Government House Tourist Information
The buses are based on converted trucks and with their homemade bodies and Spartan interiors are very reminiscent
of the those seen in Malta. The massive Cathedral is being rebuilt after the foundations started sinking. Its enormous roofline dominates the town.
Classic Bus Far away from London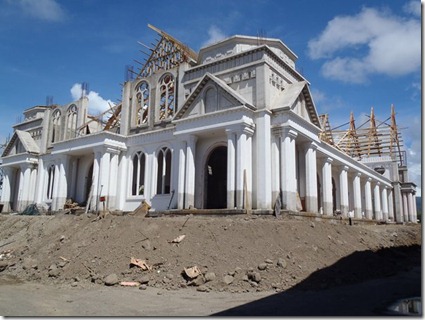 Renovation of the Catholic Church. The Bells.
The Marina has some good eateries and excellent bars and we snuck into the one serving as the base for the fishing tournament
to watched the weigh ins. They had a spectacular Sailfish with its massive purple dorsal fin and long pointed snout and a Blue Marlin at 180 kilos a well as golden Dorado, to name but a few.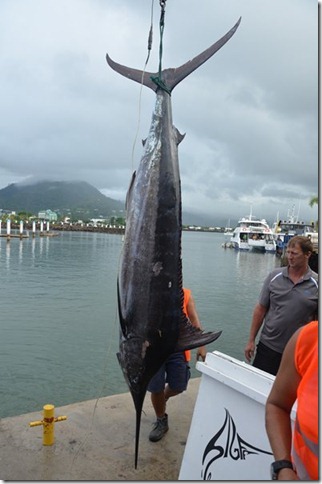 Big fish Blue Marlin, 180 kgs
Yellow fin Tuna Sailfish.
On our return to the yacht, we call in on "Rogue Brit" who is also flying a Welsh flag to enquire into his geneology.
Transpires that he is from Pontyrdulais originally and he and his American lady have a problem with their jib roller reefing which has sheared the forestay and is in urgent need of repair.
Returning in the evening we watched the show at one of the nearby bars, local boys and girls dancing in the best island tradition.
Then back to battle with the mozzies who have now found us.
Bob the Blog
---