Back to Musket by Shan

Dawnbreaker
Lars Alfredson
Fri 26 Jul 2013 06:48
Pos 17:46.29S 177:11.31E
2030722 Monday
I hope you won't be too disappointed to read a blog from the lesser Davey blogger but Bob, the master blogger is very tied up in his book at the moment so I will relate my adventures so far on Dawnbreaker. Bob I hope will add appropriate photographs.
I think I'd better start at the beginning of my trip. 6 hours on a train, 20 hours in the air and endless hours waiting at various airports and I arrived at Nadi airport to be greeted with "what have you done to your hair", woops bad move!
We take a taxi to Denarau Marina, Fiji's hub for those who wanting to explore some of Fiji's islands. I had always thought that Fiji was an island, maybe two at the most but I'm amazed to learn that it is made up of hundreds of islands, over 300 in fact.
I'm dragged off to the fruit market, the supermarket and the Victoria Wine Stores to make sure the larder is full before we set off for Musket Cove. Everyone speaks English so buying Mangoes, Papaya, Pears, Water Melon and Pineapple at the local vegetable market is pretty painless. The supermarket sells everything, local products being as cheap as chips whilst imported goods are extortionate.
On our return to the boat we decide to eat at Cardo's Bar. Very good, but being a bit shattered after my long journey it wasn't long before I was snuggled up and fast asleep.
The next day we refuelled and I set off in search of a warm jacket. Lars and Bob had had such a good time ordering "stuff" for me to bring to the boat that my suitcase weighed 20 kilos with their goodies leaving very little room for my toothpaste and necessary stuff. "Don't worry", they would say, "you only need a bikini and a sarong". Lies, all lies. They forgot to tell me how cold it is once the sun has set.
Correcting the spelling.
So equipped with a fleecey hoody we set off for Musket Cove. I stayed wrapped up as we approached Fiji's oldest resort comprising of over 50 Bures (villas), well maintained tropical gardens, a spa, fully licensed bars and most importantly a marina.
The hoodie Two hoods
Lars takes me and Bob on a tour whilst Thomas prepares the bbq. A great set up. A well equipped bar surrounded by tables and rows of bbqs on three sides. The bbqs, plates, knives and forks, etc. are all free all you need to do is bring your own food and buy wine from the bar.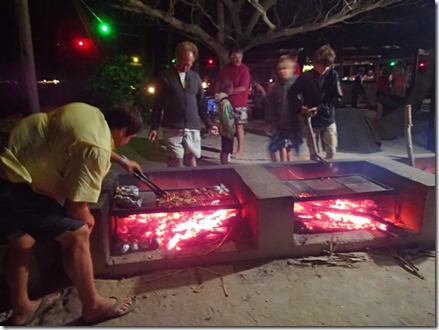 Light my fire
Arthur and Lars fully equipt Happy to help, the Bar girls
Well, we've all heard of "Happy Hour", my first experience rendered me totally oblivious to the rest of the evening which was apparently excellent.
Happy crews Grumpy Greg in fine form
Thomas chastised us for making so much noise returning to the boat, I have very little recall of the short journey in the inflatable but I have to admit to being unable to lift my head from my pillow the next morning. Bob tried to convince me I was jet lagged but I think I was happy hour lagged!
Shan Mrs Blog
---