Wairoa to Opua

Dawnbreaker
Lars Alfredson
Wed 23 Jul 2014 10:57
Pos 35:18.7S 174:7.4E
Back in Opua

Wairoa
Tokata (East Cape)
Torere
Awakeri
Whangamata
Orewa
Whangarei
Paihia


Well my friendly Blog family and friends. Its' so good hearing from you some times that you've been reading all I've
written and enjoyed it. Keep it up, I love hearing from you all.
I've only got a few days now before I leave Lars. Our trip around New Zealand is nearly over but I still have a few things
to put in before I go.
We were given by our last stay with TC and Don a Camping site that we might enjoy. We followed the map we were
given and ended up staying with Bill and Sharyn. Their place is in Wairoa and it's lovely and very friendly. Everywhere there were some
very unusual wall orniments. Stones that had been carved and painted into bees and sheep (I think). Near that BBQ area was this car
that had been made to look like it was in a garage but in fact was a BBQ in the trunk. Quirky but very nice. I'm glad we stayed with Bill
and Sharyn and no where else.


Hanging basket, painted stones and a very inviting area to sit and have dinner. The BBQ in the trunk, very unusual and lots of fun for everyone.



The next day we stopped for lunch between Tatopouri and Pouawa. When we got out to look around this little lovely dog (male) came up to us
to check us out, he was looking for his owner. I said to Lars that it looked like someone had just left him on the beach. He was just wandering
around watching the cars and waiting. I hope someone picks him up and gives him a better home, poor little love. If I could I would of taken him
home with me.
The Timber Transporters drive like maniacs. So fast. Lars doesn't like it when I give them the Thumbs near. I hate seeing so many trees cut
down. The whole area is a mess and they waste so much just for a few nice tree trunks. YUK!!!!!!!!!!!
We got stuck on the road for awhile, while sheep were herded to another field. The sheep just looked at us and would not move until the dogs
came and made them move forward. Other traffic just drove right through them but I got Lars to stop. I didn't want to run over a sheep, they
were going all over the place.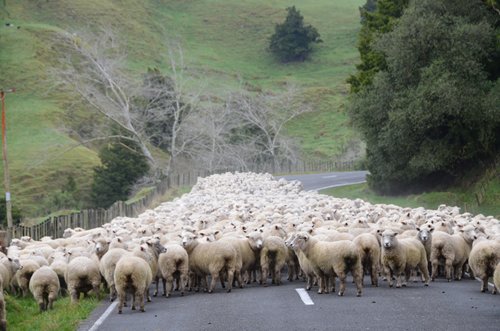 The lorry and van that just drove right through the sheep, not stopping or anything. Sheep standing still and not moving because of us.




Dogs to the rescue, doing their work, getting them going again.


The road to The East Cape is very long and windy, some of it is only dirt track which is Lars favorite type of roads. The
Camper van is really getting a beating from us.


The East Cape and our next destination, looks a long way up. The Lighthouse at the top.




East Cape, the most eastern point in NZ. The lighthouse is said to be the most eastern lighthouse in the world. See position.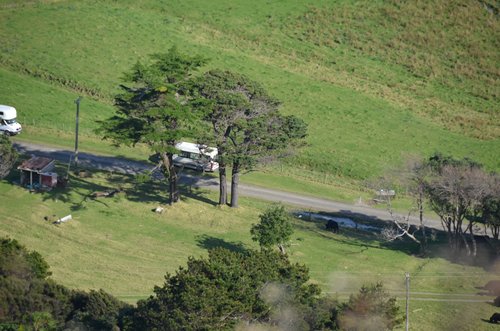 It is 750 steps to climb up to the lighthouse.................................................................and guess where I am, down in the van.


Today I got a bit weepy, we hit a little bird which flew by us. I just hope it was just stund for a moment. We seen just about everything on this
trip, dead sheep, who must of fallen from the small ledges that they graze on. A dead goat, who's fate must of been the same as the sheep.
What's next?!!!!!!!
Tonight we stayed in a little Camping site just outside Tokata, it's a little run down but everyone is very friendly. It's been a very windy night. The
wind has been howling around the Camper Van, rocking us a few times, it's scared me the first time it happened but Lars said we wouldn't be
turned over, so thats good to hear. The Bay is called "Te Waha o Rerekohu" and has the Largest Pohutukawa tree in NZ. Most of the East side of
NZ is still owned by Maoris. Te Araroa Motel and Holiday Park where we stayed has everything. It must be the only shop in or outside Tokata. The
owner is Maori and is helpful and friendly. It's a very interesting place.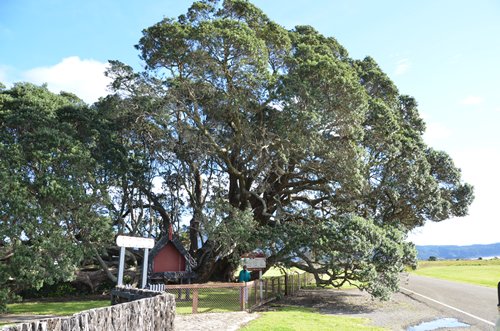 The Largest Pohutukawa tree in New Zealand ...................................................... this shows how big when I'm standing under 1 branch




The fence is made of my favorite fern. The Silver Fern


Before we arrived at our next Camping Ground, we took a little detour to one of the beaches. It's a lovely day, warm and the sun is shining.
What else is there to do but try the water. Brrrrrrrrrrrrrrr it sure was cold, I got frostbite on my toes, but it was lovely to dip my feet.


A lovely walk on the beach........................................................................................ nice enough to dip my feet in the sea, again.




The only Active Volcano which the Maoris call White Island because of
the steam it spews out all the time since the year dot...............


We've stopped in a little village called Torere where the Camping Grounds are huge but very nice with many trees
and flowers that the Tue bird loves. The Tue is a beautiful bird black bird with a little white beard under it's beek. It's
the first bird we hear in the morning. Outside the grounds is a Petrol/shop/Dairy which sells just about everything
you can think about and it's all Maori owned.
I've asked Lars to take one last time to the Hot Springs in Awakeri We arrived early and at Reception they said we could park
wherever we liked. I made a point of asking Lars to park under two Weeping Willows and boy did we get into trouble. We got
stuck, both sets of wheels just spinning round all the time. The grass was very wet and the road inbetween the sites was very
small. Firstly we got help from a man who had a 4 WD but that didn't help very much. I ended up talking to his wife, Joy, they
were at the Hot Springs just for their Granddaughter, Mackensie. In the end a man from the Camp site came with a tractor and
after alot of back and forth got our van back on to the tarmac. We made a terrible mess of their grass.
Before we tried the Springs Lars went on his usual walk. He was given a map at reception and it said it would take 2 hours, there
and back. After a very steep climb he got to the top and got a very nice view of the countryside.


Lars also found a "Geodetic point" at the top.




The wonderful view from the top of his walk....................................................... a well earnt beer and a rest before starting down again.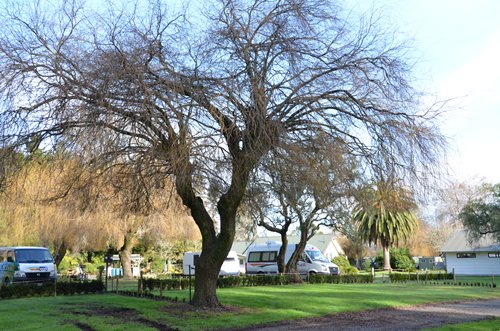 The tree I wanted to park under, look at the marks we've made............................. a closer look


The Hot Springs were 2 pools. The smaller one smelt alot like rotten eggs but the larger one was OK. Both were about the same temperature and
were very nice. We stayed in the larger pool alot longer and I ended up with wrinkles upon wrinkles especially on my fingers. The showers were a
surprise, they used the same water as in the pools. Both Lars and I must of smelt like rotten eggs all night.


This where we ended up after getting stuck, next to a tree trunk.


Today I hope to meet a lady I met a long time ago on a RyanAir flight, her name is Charlyn. We will make our way to a Camp Site not far from
where she lives but first we must stop to do some shopping.
We stopped in Tauranga to do the shopping. I've never cooked so much as I have this holiday. At home, when it's just me, I may cook once a
week, if that.
We're in Whangameta and have finally met up with Charlyn and Alan, her partner of many year. They are both wonderful and very nice to us
even if we'd only talked for about 1 1/2 hours on a flight many years ago. Charlyn is so funny. They both have been at the hospital where
their daughter has just had a baby boy. We only stayed a few hours as they both look like they could just sleep. Charlyn wanted us to stay
over but as we had already paid to stay in the Camp Ground, it was best if we left it as it was. We had a great evening and I'm hoping that in
August they come for a visit in Sweden, no matter how long.
We stopped briefly in Auckland to leave Rosie where we hired her. It was good having a Mobility Scooter to get me around alot more. I saw
lots that I wouldn't have seen without Rosie.
After Auckland we had planned to stop in Orewa Top 10 Camp site which was near a friend on FB. We had a spot right near the beach and had
a wonderful view of the Surfers and kids on the beach. As usual the showers and toilets where really cold, they never have any heating in the
winter months. Didn't get to see my FB friend, never mind, we tried anyway.
Before we made our way to Whangarei, I asked Lars if he would make a little detour to The Kauri Museum again. There was something I missed
in the shop and we hadn't seen it anywhere else. I'm glad I asked as Lars took photo's of the Huge pieces of Gum (Amber in English). Each
piece had come from a Kauri tree, some where families that had collected pieces over the years, some were found while building or clearing
areas for cattle and sheep. I also found what I had been looking for, but that a secret for a later time.


Kauri Trees, cut down for lumber, how awful. A Piece of Kauri Tree




Collections of "Amber", Gum, from Kauri Trees Small, medium and Larger pieces of Gum.


We stopped in Whangarei to do a bigger shop for the boat and then we decided to stay at The Top 10 Camp Ground in Whangarei because of rain.
It chucked it down and I didn't fancy moving everything from the Camper van into the boat with the rain coming down so much. We had problems
with leaks as it was, I wasn't prepared to get any wetter. Hopefully it will clear by tomorrow.


Leaks and our way of staying dry, plastic bags hung up.


No, the rain hasn't stopped and I'm not moving into the boat until it stops. We may end up staying at another
Park tonight as it's Sunday.
Beachside Holiday Park, in Paihai just 5 minutes up the road from Opua and just around the corner by boat. It's
where we're going to stay until Monday and hopefully Lars will sort something out.

So as you may have guessed we are back in Opua and on the boat, but thats for my next blog or maybe my last blog.............

Love Caroline and Lars x








---