Rio de Janeiro 3/4 mars.

Dawnbreaker
Lars Alfredson
Sat 5 Mar 2011 12:49
Hej !
Hur tar man sig fram till olika platser i denna jättestad. Vi har provat tunnelbanan. Det fungerar bara för oss
om man ska till de stora kända badstränderna. För övrig transport gäller taxi. Taxibilens kryssande bland obefintliga filer
och väldigt nära andra fordon är en upplevelse i sig. Vi har nu avverkat två måsten till. Sockertoppen och Jesusstatyn.
De två gondolerna upp till toppen av sockertoppen blir en svindlande färd. Ju högre upp man kommer
och ser över Rio förstår man hur stor staden är. Tågresan upp till Jesusstatyn och ner är en härlig resa.
Jesustatyn var en stark upplevelsen. Molnen kom ibland och gömde statyn medan vi var där uppe.
En präst gick omkring och gav folket välsignelse. Under statyn finns ett litet kapell.
Vi avslutar dagen med att finna lugnet i botaniska trädgården. På fredagskvällen tar vi tunnebanan till Ipanema och får
uppleva första kvällen av karnevalen.
How do you get to different places in this giant city.
We have tried the Underground and it works well going to the big beaches. For other transportation we use Taxi.
The Taxi zig-zags between the lanes very close to other cars, that is an exciting experience.
We have now done two more "must sees", The Sugar Loaf Mountain and the Christ statue. The two gondolas up to the top
of the Sugar loaf mountain is quite hair raising. The higher you get you understand what a big city Rio is.
The train ride up to the Christ statue and down again is fantastic. The statue is a strong experience. The clouds came and went
hiding the statue when we were there. A Priest went round blessing people. Under the statue there is a small chapel.
We round of the day with the calm of the Botanical Garden. On friday evening we go by underground to Ipanema
and get to experience the first night of carnival.
Mot sockertoppen Nu är vi på toppen
Towards the Sugar loaf At the top
Mitt på bilden ungefär är marinan Äntligen biljetterna till samban
Our Marine is in the center Finally the carnival tickets
Tåget mot Jesus Klassisk bild av en turist
The train to Christ Classical tuorist picture
Högt uppe bland molnen
High among the clouds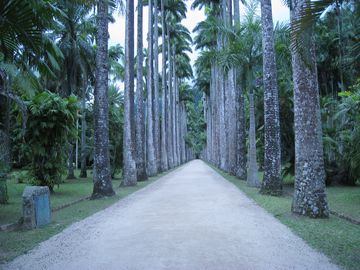 Lunch Botaniska trädgården
Lunch Botanical garden
Full fart på bakgatorna vid Ipanema
The party in full swing
Urban
---