Back onboard

Dawnbreaker
Lars Alfredson
Fri 14 Sep 2012 00:40
Swedish in black followed by English in blue.
Hej alla glada blogläsare. Då jag inte har Bob eller tonton ombord på denna etapp så får jag försöka skriva lite själv
tills jag kan övertala någon ur min nya besättning att ta över. Mer om dem senare.
Hello all happy blog readers. Now when niether Bob (the blog) or Tonton is onboard for this stage I have to try and
write something myself (not my strong suit) until I can persuade somone of my new crew to take over. More on them later.
Jag anlände till Puerto Montt och Dawnbreaker den 6e september och har nu varit här en vecka.
Dawnbreaker såg ren och fin ut efter 5 månader förtöjd till en brygga. Pablo som sett efter båten åt mig har gjort et bra jobb.
I arrived to Puerto Montt and Dawnbreaker on the 6th of September and have now been here a week.
The boat was nice and clean after 5 months tied up to the dock. Pablo have done a great job looking after Dawnbreaker.
Mina grannar / My neighbours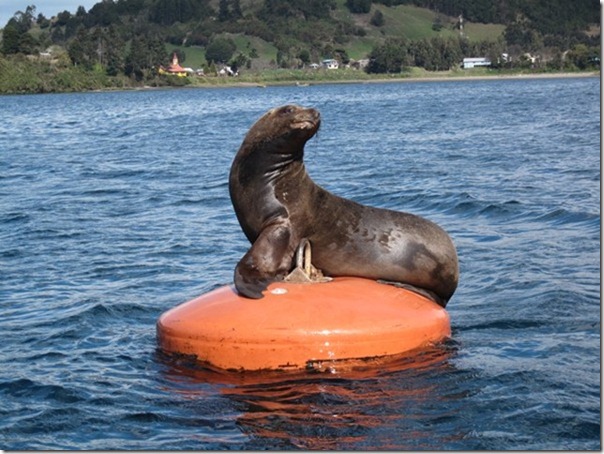 Hamnkapten / Harbour master
Jag hade med mig ca 60kg reservdelar och listan på jobb är lång innan vi kan segla iväg.
Några jobb som jag jag bockat av under veckan som varit är:
Det tyngsta jobbet har varit att byta batterier. Åtta tunga bestar x 250 Ah.
Watermakern har fått ett nytt kretskort och fungerar nu perfekt.
Förstärkningen av roderkvadranten är nu monterad.
Dingen har fått nya hjul.
Jag har också jobbat på ankarwinchen som skall komma på plats snart.
De brutna lattorna är på väg att få ett nytt liv med hjälp av glasfiber och epoxi.
I brought 60 kgs of spare parts and have a loong list of jobs to do before we can sail away.
Some of the jobs I cleared from the list during the week are:
The heaviest job has been changing out the batteries. Eight big brutes x 250 Ah
The watermaker have got a new control board and is now performing perfect again.
The repair and strengthening of the rudder quadrant has been installed.
The rib has got new wheels.
I have also been working on the anchor winch, wich will soon be up and running.
The two broken battens is getting a new lease of life with the help of glass fibre and epoxy resin.
New batteries
Watermaker control board
Rudder quadrant fix
New wheels!
I går anlände så min första nya gast Mike från Israel. Han skall själv få presentera sig snart.
Vi tog bussen in till stan idag för att handla mm. I stan var det full rulle med marcherande militärer bl.a
Det visade sig att Nationaldagen är i antågande och detta firar man mycket. Må-On är allt stängt för firande.
Yesterday the first of my new crew arrived. Mike from Israel. He will present himself to you soon.
We went in to town today for shopping. There everybody was out. The Military was marching in parade.
It turned out to be Independence day celebrations on Monday-Wedensday, but to me it looked as the party had already started
Mike
Military parade
Historien fortsätter snart.
The story continues soon.
Lars
---