Tropical "Cape Horn"

Dawnbreaker
Lars Alfredson
Sun 23 Jan 2011 16:34
Carneiros
Pos 08:41.307S 035:05.970W
Thursday to Sunday.
As Galinhas is not a comfortable anchorage to spend the night we left to Carneiros in the afternoon ....
As most probably you readers are also feed up with this GMT crap we now drooping this reference
and moving to G&T time (Gin and Tonic). The fleet his having a hard time to keep at our pace so we
lost all of them after Galinhas and sailed south by ourselves into unchartered waters of Lamb's Land
under the authority of the King of Sweden, the patience of Captain Lars, piloting of skipper Torpedo
and with no working Garmin GPS on board.

We have picked up a new invisible pet on this trip, "Ms Piggy" she will star several funny passages
over the next month on board. She keeps us on our toes and away of trouble .....
Difficult entrance Beatiful beach

Dawnpedia notes ...... Praia dos Carneiros (Beach of the Sheep). In Tamandaré you have to enjoy the
wild landscape of the Praia dos Carneiros, located 5 km from the city. Carneiros is a beach of dreams.
There are 5 km from coconut trees lining its entire length, the water is clear and warm and the landscape
is shaped by the estuary of the Rio Formoso and a wall of coral 1Km long. The pools and the sandbanks
offer an unparalleled spectacle of color. The waves bathe the "little church of Carneiro" still used in isolated
events. The beach is a paradise worth visiting, because the landscape is still almost the same as the beginning
of the century. Allows natural anchorage at low tide small boats and medium-sized vessels at high tide.
Finally entering the Cape Horn of Pernambuco. The nightmare of all sailors south of the Equator and North of Salvador.
Reluctantly, Captain Lars gives up the helm as we navigate in dangerous waters. 60 minutes into the passage,
depth 6 m, suddenly hell strikes loose ... 2.9m .... 2.7m ..... 2.5 m ..... bangggggggggggg .... Hit a sand bank
and are stuck at 2.2m .... Engine Rawls in reverse, genoa 2 leans the vessel, bowtruster steam the water through it's blades!
We are stuck on was later named "Cape Dawnbreaker".

Couldn't get forward .... point of no return ... After mass hysteria of the engine we worked our selves
free from the sandbank.. Back to 6m we set anchor, had a G&T and called for an emergency meeting.
Captain and skipper set off on the dinghy with the manual depth sounder to track our way in, as the tide
is running out as is our time and Gin.

Alleluia, we found 14m waters .... We are safe of ending like a beached whale after the drop of 2.5m to the low tide.
Anchor up and we safely sail inwards up the river. Time to celebrate with another G&T
( mind though that Tonic water in Recife is as rare as water under your keel).

At night special feast was prepared at Captains quarters. Carre de Lamb, Risoto and backed Yam.
The barbecue gas-bottle did run out midst the cooking and our resident chef as a special thanks to the goods of this
hell hole dropped the two most juice pieces into the waters of Lamb River.
This was just the first night into this Paradise, the most beautiful place we encountered so far along the
Brazilian coast on Dawnbreakr's journey. Friday was a very busy day. It started again with problems
- it seems like that on sailboats problems are exponential to length. We lost our generator engine and there
go our major assets in this tropical savage environment under constant scrutiny of the natives .... Ar conditioning,
dryer, washer and of course the water-maker for our pure ice cubes for the daily G&Ts.

To overcome our depressing mood we first took a dinghy ride to dry land (now at low tide) where Captain Lars
wanted to take ownership of "Cape Dawnbreaker" and place a Swedish flag - please next crew to join bring more flags
as Dawnbreaker's keel seems to have a tendency to discover new land for the Kingdom.
"Cape Dawnbreaker" at low tide
After this quick conquest we moved to Bora Bora for drinks and a bite and as usual our liaison stirred up the crowd
at the place,embarrassing the swedish member of the crew.
Bora Bora bar The Crowd

The piece the la resistance was the Mangrove Bar, which words can not explain therefore we will illustrate it ....
Mangrove Bar
A special Mangrove Bar blog to follow shortly

Saturday, Torpedo's family came to visit and check on the vikings that took their provider to sea without proper
notice or authorisation. It was a typical Brazilian family gathering with a marvellous meal.
The exotic portion was a honey ginger sauce served on top the fish ..... Hummmmmm !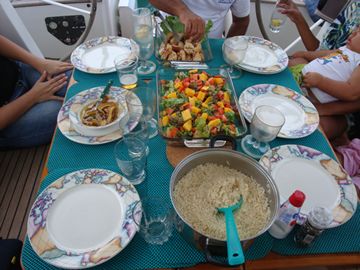 Torpedos wife and daughter Dig in!

Back to Recife on Sunday morning for generator repairs on Monday and barbecue at Torpedo's house on
Sunday upon arrival. Mind though we are still missing the coordinates to this gathering!
Please do not inquire what's with Recife that we can not get out of there!

That' all folks.

PS. Thomas (the Swedish) remember flags and Aquavit to celebrate new land under the keel.
---