Back to Puerto Williams

Dawnbreaker
Lars Alfredson
Fri 3 Feb 2012 18:59
First Urban and then Bob
Beagle Canal som är de vattnet vi nu seglar på är det inte så mycket segling åt ena hållet. När man går västerut är det stort sett alltid motvind. Inte ovanligt med upp till 15 i byarna. På natten brukar det lugna ner sig. Färden till Puerto Williams är vi laddade för motvind. Det blev sol och vindstilla. Åter måste vi klarera in i Chile. Papper igen. Sedan ska de betalas 100 dollar. Nu har det visat sig att det går att betala en viss summa får ett helt år, tror vi. Båten ska komma till en del hamnar till i Chile. Armade de Chile är inte helt lätt att förstå. Hur gör den besättningen som inte har med en person som kan språket ?
Micalvi Y.C som ni kanske kom ihåg sedan tidigare har sina klubblokaler i ett gammalt tyskt militärfartyg. Båten förtöjs i i detta fartyg. Stämningen i klubbhuset igår kväll var hög. Sist vi var här firade vi nyår. Pizza med kall öl slank ner med lätthet.
Dagens projekt är att bunkra diesel, vatten och mat. Temperaturen ute är behagliga 15 grader. Det är fredag men inte den 13:e. Låt det bli en dag där allt flyter på utan några problem. Varje fredag och endast denna dag kommer leverans av färskvaror. Var i tid fick vi som råd. Färskvaror är efterlängtat av alla.
Butiken är stor som två klassrum. När allt är handlat och lagt i lådor säger ägaren. Inte ska ni bära detta. Vi kommer till båten om en timme. Ta en lugn promenad. Nu är allt packat i båten. Piroger till lunch.
Urban
Albatross Pictures from Cape Horn
Our flag joins the collection
010202012 Porto Torro
We leave the shelter of the bay in the rain to confront the tempest yet again. The woollies send gust of 45knots to hammer us and the seas conspire to add to the misery. Finally we're running between land again and though it tends to funnel the wind, the seas are a little kinder.
Thomas spots a "Man Overboard" Buoy floating across from us so we launch a man overboard drill to recover it. As we turn to retrieve it the engine controls cease to function though we still manage to pick it up. Next the starboard main sheet winch fails.
There are no markings on the life buoy, but a call to the Navy advises they've had a report from a French yacht, of the loss of their buoy. They are currently moored at our destination of Porto Torro and we agree to hand it over when we get there...
Investigating into the engine problem I find the control switch on the main panel has been turned off. One flick does the trick. Next the sheet winch. All fuses, breakers and cut outs are checked with no success. We can hear the relay clicking so it sounds like a bad contact or loose wire. Covers are removed and a loose HT lead, which is busy arcing and sparking trying to weld itself to the terminal, is tightened up and problem solved.
Porto Torro, the most southerly village in the world, has a population of 20 of whom 15 work for the Navy. There is a solid, newish looking wooden dock running to the shore with shingle beaches either side. On the right is the colourful little chapel, a bridge crossing a stream running into the sea and a wrecked fishing boat on the beach.
On the dock we are met by the French crew whose boat is moored on the opposite side to us. We hand over the buoy and they hand us three bottles of wine, it was evidently well worth the effort of recovery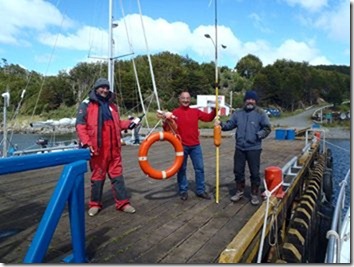 Ahead and up the hill is the village, consisting of static caravan type buildings. One of them is a shop with a seating area outside, giving views over the bay. Ringing the doorbell we're let into their front room, then led through the house to a room at the back that serves as the store.
On the way through the village a young girl leant out of the window and after a chat asks us if we would like to play football and so a challenge is issued for the village kids, to play us at 1800.
At the appointed hour, the opposition, four girls and boy arrive. We give them a tour and then it's off to the game. Their ages range from about 13 to 8 and the Geriatrics get hammered into a 5-4 defeat!
We retire to lick our wounds, take happy hour and prepare for dinner. Hamburgers tonight, a welcome change from Pasta
Bob the Blog
02022012 Porto Williams
What little wind there is, is on the nose, so we motor the 22 miles to Porto Williams. On the way we take advantage of the calm seas to reset the electronic compasses for the autopilots, one of which is over 100 degrees out!
This proves somewhat confusing to the wildlife as we go around in circles, panicking the Penguins so they dive in fright and putting the Cormorants to flight as we motor into their flotillas.
Job done, we arrive to find the "Micalvi"is buried under a fleet of rafted yachts of all nationalities. Amongst them are our friends on "Mina 2" and others we have met before in Ushuaia
Having tied up next to one of them, the "Polarwind" skippered by the guy who lost his finger on the way into there at Christmas, the last of our beer is issued and consumed as our Anchordram.
Then we head for town to check in, and take lunch. After long discussions with the Navy and trying to organise fuel we get to the restaurant. It's not that the service was slow, but we had consumed four large bottles of beer and my hair had grown back by the time we got our order.
On our return, whilst other wandered, Peter and I grab the two showers aboard the "Micalvi" and luxuriate in the limitless supply of hot water and the chance to get out off the odorous gear we've been wearing for the last week or more.
Six o'clock and we move off to the Navy pier to take our fuel onboard. We've managed to purchase the last 600 litres of diesel until the ferry brings the next delivery on Monday. Returning to our mooring its time to make contact with the outside world. So it's back to the "Makelvi", clutching our computers and phones, to take full advantage of their Wi-Fi facility.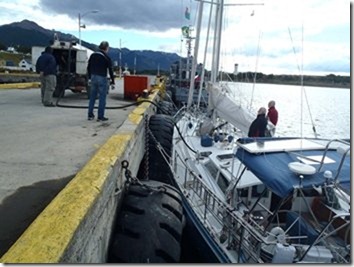 They've got their log burner fired up, so we strip to T-Shirts in the new found warmth. We're still at it when the bar fills up at 9pm, their official opening hours. Pizzas are ordered along with something to wash them down with. Tim, his family and friends off "Mina 2" comes in and several other we know and so it turns into a very sociable evening.
Bob the Blog
---