Makogai 2

Dawnbreaker
Lars Alfredson
Sun 14 Jul 2013 09:16
20130712 Friday
A hundred metres of so from where we are anchored and just offshore there is a single reef head, its position marked by a small white buoy and a broken pole. This was one of the sites the chief mentioned so we'd had swum across for a cursory visit when we returned from the village yesterday and were impressed.
The Reef head Giant Clam
It rises some 10-15 metres vertically from the sea bed, its top a hollow in which sit a great giant clam. While trying to take a picture, Lars was attacked and nipped by a very territorial little fish that seem be guarding it. The reef itself is covered in fish of differing sizes from the larger one at its base to the multicoloured minnows around its top waters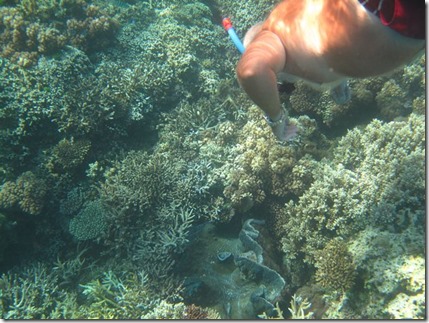 Dead one Live one
The whole reef is a kaleidoscope of colour and activity with the "Tridacna Gigas" sitting in the hollow in the middle, as its centre piece. Its great siphon and brown fleshy lips flecked with iridescent green spots it is quite spectacular.
Afterwards we follow the fringing reef around the shoreline and across to where it forms the linking reef between the small island offshore. At low tide this is exposed and forms a causeway linking the two islands at low tide. We see more clams on the way some au natural other sitting on the bottom where they appear to have been placed. Sadly we also see many crown-of-thorns starfish doing their deadly work.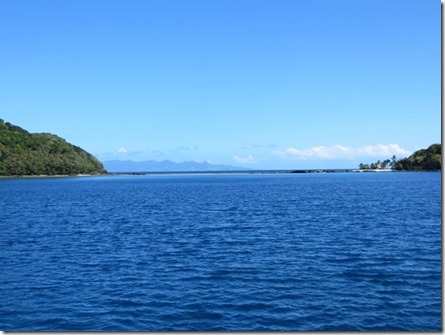 Barrier reef at low water
In the afternoon we take the dinghy to a reef at the approaches to the bay, the visibility is spectacular and I spot several new species of fish which should have been captured in my lens. Tonton comes across a white tip shark and a large turtle but Lars and I have been oblivious to both.
Coral head Two Giants
?
Crown of thorns Is this the sea bed
Our American friends have taken their dinghy to the outer reef and on their return invite us to join them for "Sundowners". Amy is busy firing up some coconut strips in soy sauce and ginger for nibbles to go with our Roquefort cheese dip with sliced carrots. Later she appears with savoury pancake slices which disappear with some relish.
Amy, Bob, Tonton, Lars, Arthur on Morning Glory. Sunset with Moonrise and Venus
We bid farewell at a respectable hour, bearing in mind the kids have to eat and we have to as well. Tonton's on the case with Mahi Mahi "belle meuniere" for our delectation complimented by a fine white wine from our rapidly depleting cellar.
Bob the Blog
---