Vanua Levu and on to Vomo Island

Dawnbreaker
Lars Alfredson
Mon 29 Jul 2013 07:26
Pos 17:29.52S 177:15.65E
20130727 Saturday - Shan
We wake to glorious blue skies. Over a fruity breakfast it's decided that we visit the island again, this time on a rising tide! Loading up the dinghy with snorkelling gear we set off for another adventure.
Walking the beach.
First of all we explore the cave and decided to walk through the narrow stretch of tropical forest. Luckily I had the sense to put my walking sandals in the boat at the last minute because the forest floor was not only covered with dead leaves, sticks, twigs, coconuts and almond shells but a mass of hermit crabs. They lift up their shells and scurry about leaving a delicate pattern in the sand.
Hermit Crab heaven " Jane" of the Jungle
The original plan was to swim back to the boat, towing the dinghy but Thomas, who had already been snorkelling, lost the strap off one of his fins. This left Bob and I to swim back whilst Lars brought Thomas back to Dawnbreaker to carry out repairs. We all ended up snorkelling but the coral and fish were not so spectacular due to the depth of water.
One brain a bigger brain?
After a quick sandwich it's up anchor and off to Vomo. A pleasant journey that took about 2 hours. We arrive at low water and nudge our way through the reefs. Bob has found me a new snorkel, hmm. Actually, third time lucky and I discover that I can snorkel after all. Unfortunately the water around the reef was a little murky but at least my confidence has been revived.
Thomas and Lars spend the late afternoon cleaning the hull using diving gear and scrapers. Bob tried out the diving gear and took a little while to familiarise himself with the most modern BCD (Buoyancy Control Device) one minute sinking like a stone the next minute shooting to the surface.
Don't panic Lovely!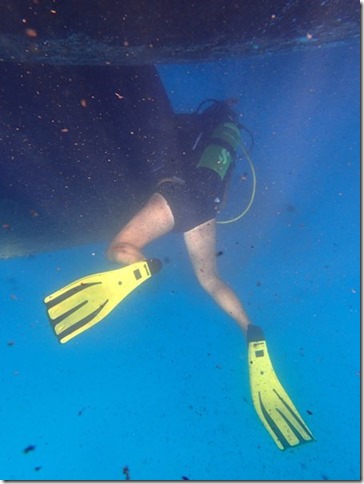 Cleaning duties Making a mess.
It's now Happy Hour and the family of a French boat which arrived later this afternoon are about to join us, so, night, night.
S/Y Extrapôles Our guests Jaques, Marie and Sophie
Shan – Mrs Blog
Edited by:
No names.
---