On my way home

Dawnbreaker
Lars Alfredson
Sun 9 Jan 2011 16:47
9th January Sunday.
Today I (Caroline) will be leaving Lars and Thomas and will be flying home, hopefully.
My holiday has been full of excitment what with my luggage not arriving for 10 days
and my medicin getting very low. That problem worked it self out in the end.
Jacaré is a very nice harbour to stay in with lots of restaurants close by, shops
with lots of local produces and nick-nack to take home. The weather has been
hot all of the time, from around 30 to 35 C. Every day there has been a breeze
but it still felt hot and sticky. At night the temperature does not go below 27 C
and there is always a breeze blowing to keep everyone cool. ha ha ha.
A crash in Jacaré where the train won, inside was A party motorboat in Cabanga with
a woman talking on her mobile and a small baby 12 speakers. Brazilin style
inside. She was not looking what she was doing.
Everyone was OK
The food is very different from anything I've tasted before. Lots of fish and prawn
dishes and lots of very strange root vegetable that I've never seen before, like palm
root, cassava root which tastes bit like potatoes but is very big like sweet potatoes.
Thomas will be putting several Brazilian receipes on the blog when he take over.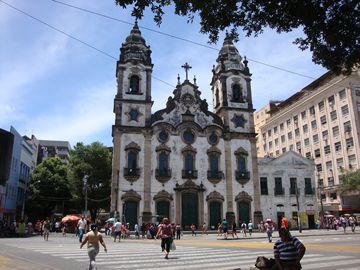 Oppseee my new boat got blown ashore A very old Catholic Church in Recife
Thomas is a man that gets thing done, either getting us into areas that most Europeans
would never go or helping with problems that have come up over the past week.
He's a very good cook and I think will be good as company for Lars after I have
left to go home. I've already had problems with Checking-in but hopefully that will be
sorted when I get to that Airport. We will just have to see later.
Barbeque time, just a little bit of meat The pit built in Cabanga Yacht Club, anyone
can use it
I'm going to put some photo's in the blog that I've not put in before but think they should
be shown.
Well it's bye-bye from me, Caroline. It's been fun and now I'm turning the Blog over to
Lars and Thomas.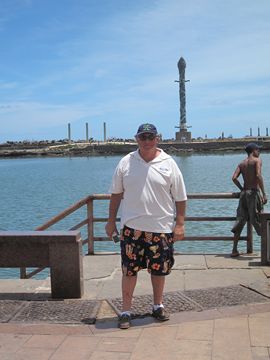 Thomas in is fantastic bermuda shorts Lars taking a break, it's warm today!!
---