uhuuuuuu 50knts of wind ...... BA

Dawnbreaker
Lars Alfredson
Sun 9 Oct 2011 19:39
Position 34:35.744S 58:21.865W

What a great way to start this adventure. We arrived at Buenos Aires at 6AM after a fantastic sail under up to 50 knots
of E and NE wind enjoying speeds up to 15 knots.
She behaved like a baby and what speed - 2nd reef on the main and 50% of genoa 2 ...
Pity was the rain, but the lightning performances were at par with Cirque D'Soleil performance.
We made it to Buenos Aires safe and sound. After some sleep moored at the harbor commercial pier we are off
to look for a marina for a more comfortable dock.

Docked temporarily on the outer wall off theYacht Club Argentino until the Buenos Aires Sailing week is over.
temporary docking at Navy yard At YCA pier until tuesday
BA skyline view from YCA In Uruguay a new Bimini installed
As for repairs generator is working and new heater after some troubleshooting is installed and working.
Peter Lipscombe from Canada. Has joined the crew in Argentina and will be sailing with us until Ushuaia. He did stock our bar with 2 liters of Gin! G&T time is saved. We are also planning to outfitt our bathtub as a wine cellar for Bob's arrival next friday.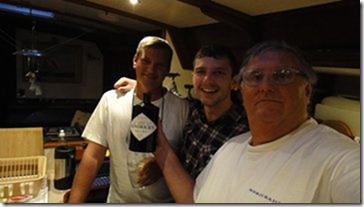 Peter coming on board Happy happy G&T hour .....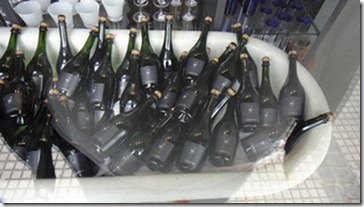 bathtub proposal
As usual formalities are our nightmare and we are still running around with the paperwork. So far we have only accomplished Immigration. Customs and Port Authority only after the long weekend.
Thomas

---