Yasawa Island

Dawnbreaker
Lars Alfredson
Wed 14 Aug 2013 05:39
Pos 16:42.55S 177:34.64E
20130809 Friday – Shân
I wake to the sound of the main engine firing up. I rouse Bob who dashes out to see what is happening at 7am! I follow him out to find Lars donned in shorts and waterproof jacket, it's pouring but Lars has decided to test the weather. It's all hands to, clearing up and stowing equipment and before the kettle boils the anchor is brought on board and we're away.
Luckily I have enough time to produce coffee and water melon for breakfast before it starts to get very bumpy. Erring on the side of caution I tuck myself into a corner of the wheel house, out of the way of the roughy toughy sailors.
Rocking and rolling gets worse, we have 30+knots of wind on the nose. A red light flashes on the control panel – it's the engine water cooling system overheating. Lars reduces the revs which solve the overheating problem but we're just about managing to make 4 knots in seas that are swelling. This means reaching our destination, Yadua Taba could take all day and negotiating the reefs in the dark could be very challenging.
Thankfully Lars decides to turn West and head for the shelter of Yasawa which is less than 2 hours away. I decide to adopt the horizontal in my bunk until the seas calm down a little which they do within an hour and the sun comes out to greet us.
Wiping off the salt after a rough passage. Net fishing off the beach
Visitors no life jackets here!
After the compulsory snorkelling, which I had to miss because my fins had been left behind on Dawnbreaker – oh dear!! We settle for a lazy afternoon and evening. Chicken on the menu tonight.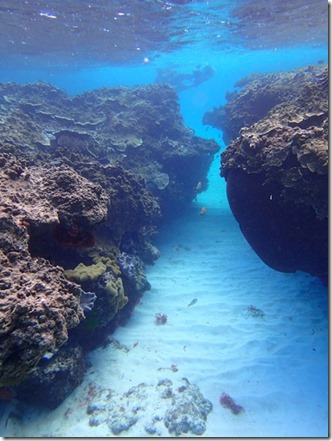 Nobody can see me says the Puffer fish
Speckled Sandperch
We're all reading quietly when we have a visitor; another enterprising fisherman comes to show us his catch. After some negotiation Bob persuades the poor man to gut and clean a huge 'Trumpet Emperor' for just 10 Fiji dollars ( about £3) – what a bargain! Lars has to chop off the head and tail because it's too big to fit in the oven! Now I have to dream up a recipe, but that can wait till tomorrow – night, night.
Our choice. Emperor trumpetfish
Mrs Blog
---