Búzios

Dawnbreaker
Lars Alfredson
Sat 26 Feb 2011 22:43
Pos 22:44.81S 41:53.07W
Hej/Hello !
Vi vaknar och ser oss omkring. Ett stort kryssningsfartyg en bit från oss. En stund senare ett till.
Den lilla staden kommer nu att bli överfull så vi bestämmer att hitta en billig bil. Vi hyr en liten gul Buggy.
När Lars startar upp den tyckes den tappat ljuddämparen men blir vår över dagen. Lars tar ansvar för ratten.
Urban får en enkel turistkarta i handen för navigationen. Efter tankning bär det av. Lars är inte sen att få till baktändning
och effekten på oss andra är att vi blir som barn, mer mer. Vi hittar till en fin liten vik med stora härliga vågor.
Hunger kommer och vi stannar på en riktigt lokalt matställe. Toppen lunch för de facila priset av 25 kr per person.
De här med vägmärken är inte alltid så lätt . Som navigatör frågar Urban den ansvariga vid ratten. -Vad betydet det vägmärket märket.
-Vet ej blev svaret. Vi åker vidare och får fina utsikter. Vi hamnar nere vid en strand med flera gator och skyltar.
Vi inser nu att vi kört mot enkelriktat i 2 km. Ingen bil som vi mött har har försökt få oss att inse att vi kört åt fel håll.
Nu får vi köra tillbaka samma väg, inga möten. Varje dag fylls med nya upplevelser och samtidigt lär man sig något nytt.
We wake up and look around us. A big Cruise Ship is anchored near us. A little later another one.
The small town will now be crowded so we decide to find us a car. We rent a small yellow Buggy.
When started up it sounds like it lost the muffler. This is our transport for the day. Lars behind the wheel and Urban navigating.
Lars manages to get the engine to backfire and everybody wants more. We find a beautiful bay with biiig wawes.
For lunch we stop at a very lokal eatery. Nice lunch for a nice price (2£ ahead).
Road signs are not always easy to read. The navigator asks the driver, what does this sign mean? I don't know is the answer.
We drive on and find lots of nice lookouts . We end up at a beach with lots of more signs and realise that we have been driving
against a one way street for 20 minutes. Nobody told us! We now have to turn around and go back the same way.
Everyday we learn something new and get more experienced.
Thomas och Urban tar en öl på förstakvällen Búzios
First night in town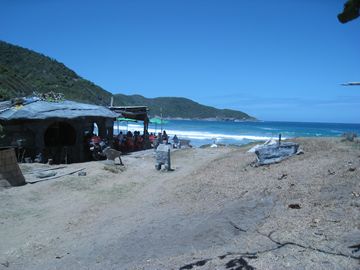 Mot nya äventyr Bra surfvik
New adventures await's Good surfing
Planering av vidare färd Härlig lunch
Planning the route Nice lunch
Ny vik för svalka. Lite kyligt 26+ i vattnet Viken vi ligger i
New beach. A bit chilly 26C in the water Our anchorbay
" Vår " bil
"Our" buggy
Varma kramar från oss alla till er alla.
Warm hugs from all of us to all of you.
Urban
---