Last night, Connys version : Connys blogg

Dawnbreaker
Lars Alfredson
Fri 13 Apr 2012 00:49
Hej på er alla bloggläsare det är nu ett par dagar sedan vår fantastiska författare o bloggskrivare åkte hem.
Men ni skall veta att vi har vårdat Pim mycket väl med en rejäl avslutning med mycket mat och lagom med gott vin så att han skulle komma hem utvilad och i fin form !!!!!
När vi kom tillbaka till båten satte vi oss och pratade o diskuterade olika saker som hade hänt under vår resa och skrattade och drack ett par riktigt goda drinkar plötsligt var det bara Pim o jag kvar o klockan var väldigt mycket.
Vi satt då kvar de 2 timmar som var kvar tills väckning för jag blev ju väldigt orolig att han skulle försova sej o missa planet !!!
Klart att man ställer upp. Formen på Pim blev ju rund men det har han nu lärt sej att rund är oxå en form !
Så nu skall jag Conny skriva lite om fortsättningen. Vi skall ligga kvar här i Puerto Montt och båten blir kvar här i vinter. Så nu håller vi på och tar ner alla segel och tvättar o spolar alla tampar och vädrar i alla luckor för att få ut så mycket fukt som möjligt. Här finns mycket att göra, vi skall göra allt som behövs så att den här jorden runt resan skall kunna starta igen om ca 5 månader.
Själv hoppas jag att jag och min kamrat Anders som inte hade möjlighet denna gång o segla med, får vara med igen på denna underbara Dawnbreaker.
Conny.
Vika segel / Folding sails Conny repar sig / washing ropes
Högt lyft vid lågt vatten High lift at low water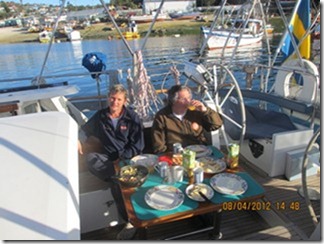 Lunch Club House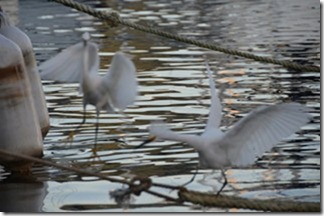 Besökare Visitors
In English:
Conny writes about his last night with Pim (Tiny) as follows:
It is now a couple of days since our fantastic blogwriter went home. You should all know that we sent him off properly with good food and wine so that he would come home rested and in good shape !!!
When we got back on board we decided to have a nightcap. We started discussing all the wonderful things we had experienced in the last month.
After a while there was only Pim and Conny awake. As it was only a couple of hours left until 07.30 when the Taxi was picking up Pim, we decided to stick it out.
We did not wan't to risk missing the flight.
We are now busy taking down all the sails and washing out all the salt from ropes etc. 6 months of sailing in the south wears a lot on your gear.
We want to be shure that Dawnbreaker can continue her cruise later in the year.
For myself I hope that me and my friend Anders (who was not able to join us for this trip) will be able to come back in the near future.
Conny
Dawnbreaker is staying in Marina del Sur, Puerto Montt until the end of September. Then the trip will continue out into the Pacific.
More about that will follow shortly.
Lars.
---