Yokohama / Tokyo

Dawnbreaker
Lars Alfredson
Mon 20 Jun 2016 01:33
Sunday 12/6.
Together with Urban and Ivan we flew out from Copenhagen
Arrived back to YBM around 1 pm.
At 3 pm the yacht club had organized a welcome party for us. We were treated to nice food and drink. It turned into quite a lively occasion after some sake and other nice things.
We also had a flag exchange ceremony. I got a YBM flag and gave a GKSS flag to the club president.
After a couple of hours we all moved to Dawnbreaker for a show of our boat.
It was a very pleasant afternoon and I want to thank the yacht club and all members for their hospitality.
Monday the 13/6
After breakfast Mr Kunihiro arrived with his wife and his son and offered to take us to a big Costco mega market. After quickly writing a shopping list for about 1 month stores we set off for the shop in 2 cars!
Once there we armed ourselves with 3 big shopping carts and filled them full of supplies.
After a long time we went to pay and found that you could only pay with American Express cards or with cash! As we did not have any American Express card we counted all our cash together and told the cashier to stop at 180000 Yen. Our money was enough for two of our three trolleys. We had to leave one trolley behind while we loaded up one car full and went back to the boat. There is two places you can get cash from an ATM in Japan. Either from the Post Office or from a 7-eleven shop.
After a visit to a 7-eleven shop and off loading at the boat we sent Ivan back to pick up the last trolley load.
It took us the rest of the day to put everything away.
Once again thank you to Mr Kunihiro with family for their help.
Tuesday 14/6
Work day. I spent most of the day installing the new hydraulic pump and hoses for the autopilot. Ivan and Urban cleaned the boat from top to bottom.
Wedensday 15/6.
We took the train to visit Tokyo. It took us nearly 2 hours with a few train changes to get to the center.
We started our visit with the Imperial Palace. Followed by a walk in another beautiful park that had a nice old fashioned japanese tea house in a pond. This made a stark contrast to the skyscrapers in the background.
Next on the list was Shibuya crossing, the worlds most busy street corner. Very impressing.
After lunch we took the train to Asakusa with old temples and craft shops.
We finished off the day with a visit to Harajuko with lots of fancy shops etc.
After a long day with over 20 km of walking we returned with 4 different trains to the marina 12 hours after we started.
Thursday 16/6
Another work day.
Just before midnight Thomas (Tonton) arrives and the crew is complete for the long sail to Alaska.
Friday 17/6
After filling water and fuel we go out for a testrun with the repaired autopilot with no luck. The pilot just wanted to steer one way.
After a bit of google research we think we have the solution. This will be tested tomorrow.
At about 5 pm we all take the train to Tokyo. Our goal is to visit the Shibuya crossing when it goes dark and all the signs are lit.
It is a fantastic view. After visiting a couple of bars and having dinner we hed back home to the boat.
Tomorrow we start sailing again.
All is well,
Lars, Ivan, Urban and Thomas.
Skickat från min Xperia™-surfplatta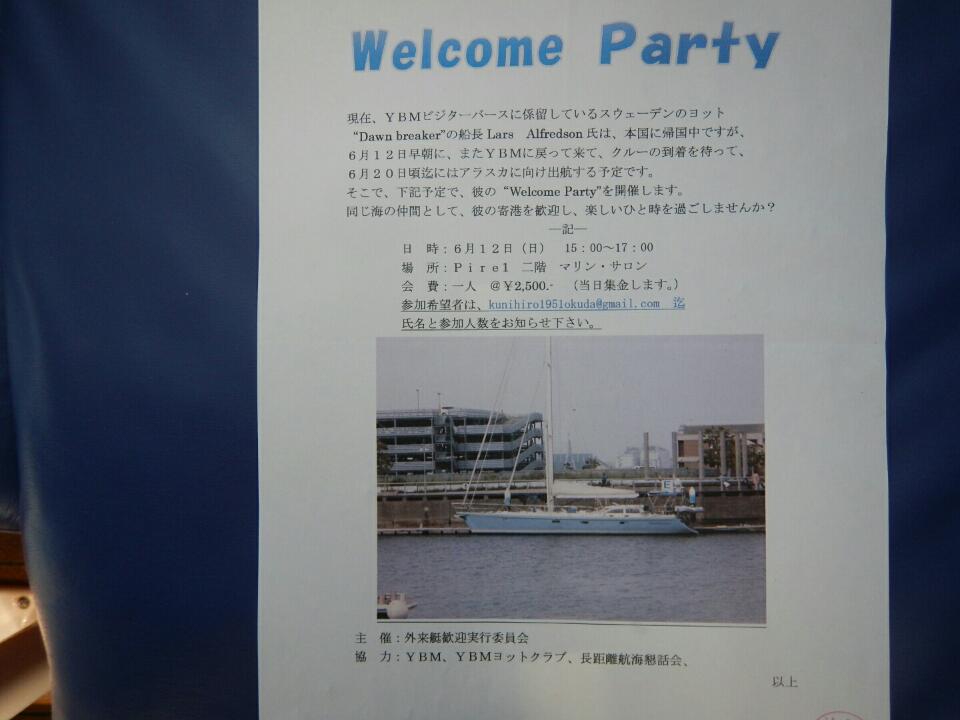 ---