Cape Verde

Dawnbreaker
Lars Alfredson
Mon 15 Nov 2010 18:11
16:53.18N 25:59.5W
Sao Vicente 5/11-2010
För att lugna alla läsare, har vi nu angjort säkert Mindelo på Sao Vicente vilket är en av de nordligare öarna i Cape Verde ögruppen. Den är betraktad som en av de vackrare i ögruppen. Mer om detta senare under redogörelsen. Vi skall ocvkså förbereda läsaren på att vi i natt lättar ankare för tur sydost till Santiago. Innan dess ska vi underhålla våra trogna läsare om resan hit. Den innehåller intriger konflikter och annat snaskigt som förhoppningsvis kommer att trollbinda. Men vi börjar från början. Där vi skickade den förra bloggen, det vill säga kvällen dag 4.
Första vakten (22-00) togs av Viola och Uno, andra vakten togs av Pim och Freddan, som hade lyckats förhandla ner tiden från fyra till två timmar. Kalle tog hundvakten (04-06) och Lars tog 06-08. Inte för att detta skulle underhålla läsaren särskillt mycket men för den som vet att läsa in detaljer är det inte svårt att se ett vi har tappat två timmar under någon vakt och misstankar finns om att Pim och Fredd kanske av misstag kan ha lyckats ta 4 timmars vakt trotts de utlovade två. Det är detta som skiljer agnarna från vetet och de erfarnas vishet övervinner de ungas förvirring.
Nu till intriger, relationer och snask och till händelserna under natten. Under sista vakten som Lars hade valde James, vår eviga styrman att gå ut i strejk. Han hade fått nog efter över 4 dygn till sjöss och valde helt sonika att stänga av sig själv. Detta föranledde febril aktivitet och efter viss övertalning och igångsättning av generator valde James lyckligt nog att återgå i tjänst. Den stackarn var helt enkelt inte så laddad. Det föranledde också en kraftig lovning och om inte alla varit så väl inbäddade hade alla legat på läsidan. Mer snaskigheter? Efter att inspektions-patrullen kontrollerat alla hytter under den sista morgonen till havs hittades suspekta fiskfjäll i för piken, där som bekant Lars och Kalle sover. Detta föranledde till extensiv interrogation, som bekräftade misstanke om nattliga besök. Det visade sig att två vilsna efter Lars utsago flygfiskar och efter kalles utsago sjöjungfrur störtat rakt ner i förpiksluckan. Läsarens fantasi sätter gränsen.
Nästkommande morgon steg spänningen då vi kom närmare land. De vassa siluetterna av Sao Vincente visualiserades ur diset vid 12 tiden. Vinden ökade som brukligt till närmare 30 knop när vi kom närmare och sista biten in seglades på blott storseglet med bibehållen hastighet. Under de senaste dygnet till sjöss snittade vi drygt 8 knop. Vid fem tiden lade vi till i den enda marinan vid Porto Grande.
Marinan är fin och drivs av två tyskar som går runt och talar om att de är partner för alla som vill höra mest hela tiden. Detta är förvirrande för den observante. Här på ön talar lokalbefolkningen en rotvälska som är svår att förstå och om man vågar sig ut på marknaden Mercado municipal så får man innertialt sådana rövarpriser att man själv rådnar. Då passar de goa afrikanska kvinnorna som basar i stånden på att höja priset lite till för att verkligen få en reaktion av oss vita. SÅ är det nog alltid.
Kontakt med polis och myndigheter. Javisst. Men lite för lite. Då man kommer hit måste man ansöka om visa och andra incheckningspapper för att få tillstånd att senare lämna ögruppen om maninte skall lämna den med samma farkost som man kom in på ön med. Detta har dock visat sig vara allt annat än lätt. När vi kom hit igår var det söndag och då var allt naturligtvis stängt. Men vi fic ett papper som visade att vi hade lagt till och att vi skulle vara här ett par dagar. Idag har vissa myndigheter öppet men andra stängt. Imigrationsmyndigheten är öppen och har glatt gett os massa stämplar i passen men det har visat sig att det är polisens dag idag vilket innebär att polisen har ledigt. Vi kan därför inte ansöka om visa vilket i förlängningen innebär att vi nu är fastboende på ön tror vi. För att lösa detta har vi bestämt oss att lätta ankar redan i eftermiddag för att ankomma Santiago där Praia och flygplatsen ligger redan den 16é . Då har vi en hel dag där nere att reda ut allt pappersarbete och annat. Frågan är om det räcker.
Nu bunkrar vi för allt vad tygen håller för den sista dygnsettapen ner till Santiago. Papaya bröd och annat nyttigt tillsammans med vatten och mindre viktiga förnödenheter. Det sista vi skall göra är att besöka internet faciliteterna för att ladda upp tillhörande bilder till bloggen.
Happy Hour arrives and as there is a request for something a little more exotic I make "Planter Punch" not quite as lethal as one could as we only have one type of Rum and we all would like to see Cape Verde.Somewhere in between this even and dinner another Dorado offered itself up (a previous catch had been a bit small and was thrown back) and provided a second course with to our Chile con Carne.
More book and bunk before ones Watch. I relieve Uno and Viola, who reappears with a Flying Fish she has found in her bunk. This turns out to be a common hazard for those with portlights on the windward side as Lars and Carly found two that had flown into their forward cabin!

03:30 and were now on the down hill leg having passed the 100nm mark which means at our current speed we should be in port around 16:00 tomorrow.

14112010 Sunday Day 27

The Generator is running again. We seem to be consuming a considerable amount of power considering we have an 800 amp battery. The autopilot is probably the biggest user as it is running 24/7 at about 5amp =120A per/day, the 240V Toaster probably 50A plus 30% with losses through the Inverter and they themselves consume power to run the cooling fans and in conversion of 24V DC to 240V AC. All of the lighting has been converted to Led's so there should be minimum consumption there. The Yatch also has Solar Panels so it's a bit of a mystery.

Frederick and I have both been forward to photograph more of our night-time visitors as two more Flying Fish lie prostrate on the deck. Pics taken they are dispatched over the side before the Sun starts welding them to the non-slip.

I'm in my usual position in the bow when Pim arrives with a beer. It must be 12 o'clock. Ten minutes later and the shout goes up "Land ahoy!" and there in the haze and cloud in the distance some 25 nm away we can just make out the steep mountains of Santo Antao the largest and most north westerly of the islands behind which is our destination the port town of Mindelo on Sao Vincente.

But shipboard life must go on as Lunch is prepared, pasta and salad as we continue apace over an clear indigo sea and the bottom is rising up now as we pass the 2000mtr depth contour.

Excitement our mobiles are starting to pick up signals and we back in touch with the outer world again! The AIS has also sprung to life and is now showing a large tanker with a tug boat going to its assistance, a couple of freighters and a passenger ship in the harbour.

13:20 Position 17.06'.584 North 024.50'.083 West – Distance to go 15nm, Speed 8.4kt, Sea Moderate 3 mtr Swell, Water 28C, Air 28.4, Wind 9kt/17kt True

16:00 we arrive in the harbour which is full of ships of all types. The Marina is in the bay behind the ferry pier and ajoins the beach in front of the town. Fantastic scenery all around with the sharp ragged peaks sculpted through the aeons from the landscape of ancient volcanoes.

Happy hour and we're deciding to go ashore for dinner when there is a total power failure. A refill of the glasses while plan "B" is discussed and the power come back on so its all ashore where we do a recce of the "Sailors" Bar restaurant and head for the cash point.

A fistful of local currency and we return. The architecture is early primitive; no roof and a crumbling sun awning, plastic and wood chairs, walls covered in flags signed by visiting yachtsmen and on a stage where the impaled skeletons of guitars and various string instruments hang a lone guitar player singing local songs with a dash of the Bob Marleys.

The beer is good 5.6% and the food also, surprisingly. The bar is full of local colour with hookers strutting in and out as well as young kids running around (theirs ?) local "Blades", along with yachties of all nationalities and vintages having a good time.

We return to find the night watchman has disappeared leaving us with the usual locked gate syndrome. Fortunately, Frederick is up and over the gate in a flash to press the switch to let us in, and so to bed.

14112010 Monday Day 27

Breakfast and the formalities, off to the Immigration Offices. Passports duly stamped we then have to report to the Harbour Police, unfortunately its national Police day and they're all on holiday. To compound the problem we realise we're running out of time as the first batch of departees are leaving on Thursday morning which means we have to be in Praia (35hours away on a good sail) in time to clear the paperwork that end.

We decide we have to sail tonight and having found a nice little backstreet Café for lunch. We try the local drink "Poncho" and Madam assures me that the rum in the bottle is not as advertised but is in fact her own brew, potent stuff !

Back to the boat, update the Blog and get it transmitted then get ready for sea.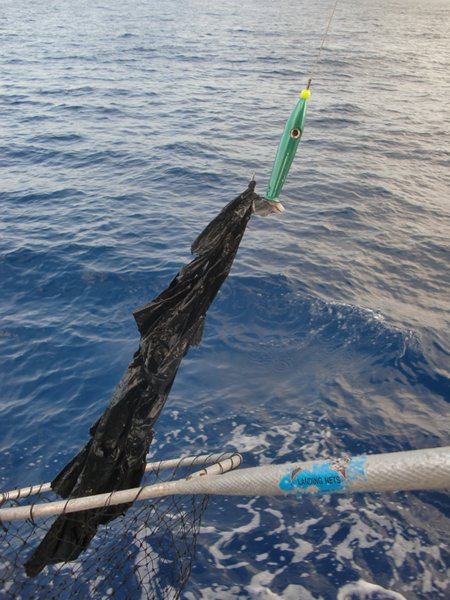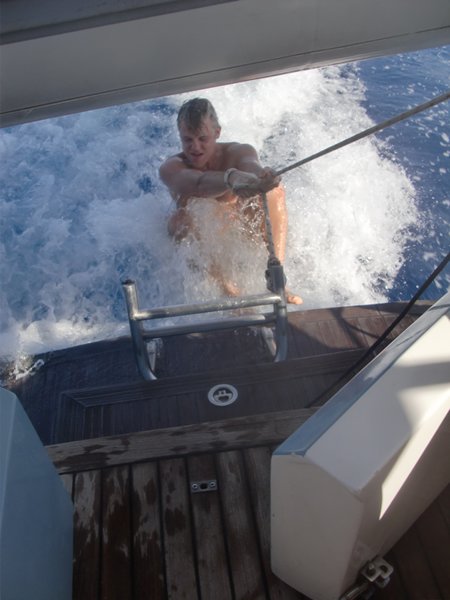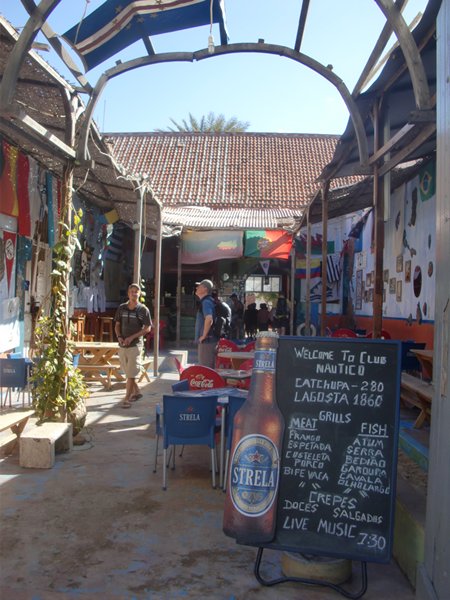 ---