Bora Bora - Maupiti

Dawnbreaker
Lars Alfredson
Mon 25 Feb 2013 21:37
Pos 16:26.84S 152:14.80W
På fredagseftermiddagen på Bora Bora flyttade vi oss till en lugn ankarvik, passagen dit gick delvis över ett korallrev och
vi hade bara 40 centimeter kvar under kölen. Lars manövrerade mellan korallhuvudena och vi kom in på djupare vatten och
ankrade bredvid en massa andra båtar varav en del övergivna och en del nästan skrotfärdiga.
Friday afternoon in Bora Bora we moved to a nice bay fore the night. To get there we had to pass across a coral reef. Lars
maneuvered between the coral heads to deeper water where we anchored near some other boats, some looked abandoned.
På Lördagen bestämde sig Fred o Grete för att hyra en skoter och utforska ön, vi skjutsade iland dem efter frukost.
Resten av oss skulle utforska ön via promenader på de närmaste stränderna.
Saturday Fred and Grete rented a Vespa to explore the Island. The rest of us explored the beaches nearby.
På eftermiddagen så lättade vi ankar och gick tillbaka över korallrevet, dock inte lika lyckligt som när vi gick in i ankarviken.
Den här gången missbedömde vi djupet på ett korallhuvud och båten strandade med en liten duns, vi gjorde en 360 och ström
och bra motor gjorde att vi kom loss ganska enkelt. När vi sedan angjorde en av Bloody Marys bojar så dök Lars ner för att
nspektera eventuella skador, Dawnbreaker hade klarat sig med bara några repor på kölen vilket kändes bra.
In the afternoon we hauled up the anchor to cross the reef again. This time we had a strong current pushing us out.
Steering is then more difficult and we hit a small coral head. The current turned us around 360 degrees and we where
soon free again. When we tied up to one of Bloody Marys moorings, Lars dived and checked for damage. Just a few scratches on
the keel, no harm done.
Lördagskvällen angjorde vi Bloody Marys krogen. Lite spännande inredning med bastanta vackert lackade trämöbler och golv av korallsand.
Vi åt några av husets specialiteter och insöp atmosfären. Vi köpte naturligtvis också varsin Bloody Marys T-shirt. Kvällen avslutades i baren!
Saturday night we had dinner at Bloody Marys. Nice interior with massive wooden furniture and coral sand on the floor.
You leave your shoes in the entrance and walk barefoot. We dined on some of the house specialities and enjoyed the atmosphere.
Some of us bought a Bloody Marys T-shirt. The evening ended in the bar.
Med hjälp av stora hjul hissar man upp båtarna när de inte används
With big wheels you lift your boat out of the water.
En liten paus i värmen / A rest in the heat
Här lunchar hela familjen på plastmöbler i vattnet, det är troligtvis Cola i kylboxen
Cool place for your lunch.
Åter i båten på kvällen / Back in the boat in the evening.
Nu skall vi in på omtalade Bloody Marys för Lördagsmiddag
Entering the famous Bloody Marys for dinner.
Menyn presenteras och beställningar görs, jag väljer grillad Tonfisk
The Menu is presented. Anders choose the grilled Tuna.
Restaurangen har bara en skogarderob, alla måste vara barfota på golvet av korallsand
You leave your shoes in the entrance and walk bare foot on the coral sand floor.
En trevlig bar hade de också som vi måste prova på. / Testing the Bar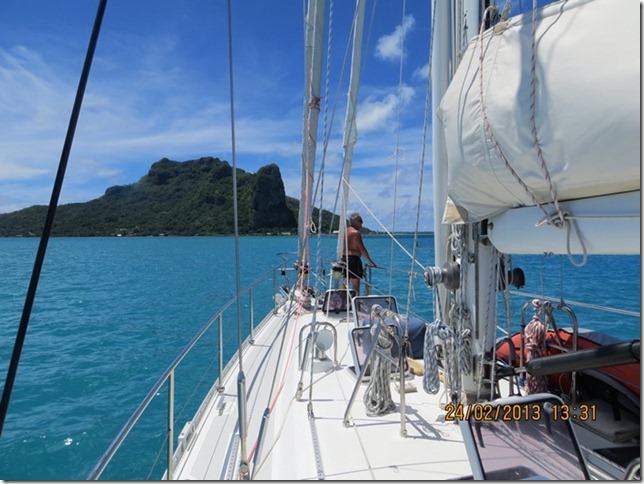 På söndagen seglade vi med bra vind till nästa ö som heter Maupiti, 30 distans bort. En trång inpassage genom revet
gjorde det lite extra spännande när utgående vatten med en ström på 3-4 knop möter svallvågor från havet. Full motor
och vi surfar in. Vi är enda segelbåt i atollen, många skräms nog av den lite svåra inpassagen.
On Sunday we sailed with a nice wind to Maupiti, 30 NM away. A narrow pass through the reef made it exciting when
4 knots of outgoing current met the ocean swells. Full speed on the engine and we manage to get in. We are the only
Yacht here, many might be discouraged by the tricky entrance.
En 3-timmars vandring runt ön och vi stöter på många godsaker
A 3 hour walk around Maupiti shows us lots of goodies.
En välbehövlig paus halvvägs runt ön / A well neede break halfway around the Island.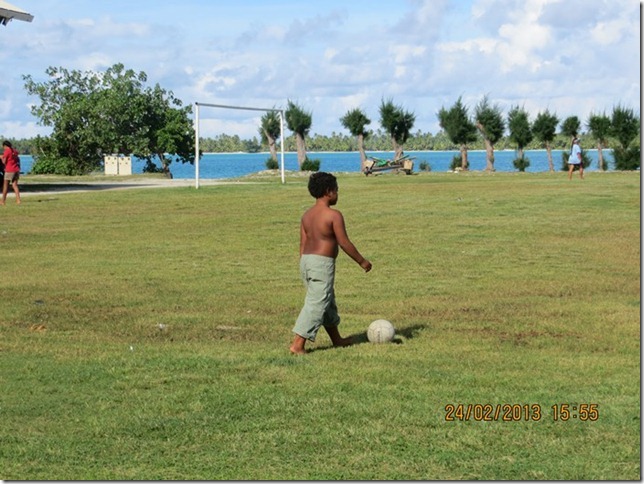 1000 personer bor på Maupiti, några av dem tänker försöka bli fotbollsproffs.
A thousand people live on Maupiti, some want's to be football professionals.
Det är väldigt varmt här på Maupiti, 32 i vattnet och 33 i luften. Ibland kommer det en svalkande regnskur.
It is very hot here in Maupiti, 32 in the water and 33 in the air. Sometimes we luckily get a cooling rain shower.
The Dawnbreaker crew.
---