Going back to North Island

Dawnbreaker
Lars Alfredson
Wed 16 Jul 2014 09:04
Pos 39:1.9S 177:24.8E
Wairoa



Hanmer Springs (2)
Kaikoura
Picton
Martinborough
Waipukurau


Hello again - this is the second time of writing this part of the blog and if it disappears this time (pictures as well),
I'm going to blow a gasket. So, here goes. We stopped first in Culverden but couldn't get the power to work
so we ended up going all the way to Hanmer Springs. After we arrived and tried to get power again, we found that
it was our cable that had come apart, we borrowed one from the Top 10 office.
We stayed 2 nights as the next day we went to the Springs which were 500 metres up the road. They had sorted it
out very nice. There were pools just for adults and then pools just for children with slides and lots of funny things for
them. The temperatures were from 32C - 42C. The pool that was 42C was too hot for me.
In the morning in Hanmer Springs the clouds are very low over the snowy mountains and we are on our way back to
North Island.
We received a message from Cameron who is in Opoa where the boatis. They've had a very bad storm and have no power
at the moment. One of Lars sails has been damaged, how much, we don't know and we had another boat bang into
Dawnbreaker. Not very good news at all. We heard on the news 35 boats either sank or were damaged due to
the Cyclone type storm. I'm just happy I wasn't there when it happened.

We've noticed that most of the bridges here that run over the rivers, and there are lots of rivers, they only make them one
lane. Some bridges are very long and they have to have 1 or 2 places for being able to meet other cars. Why is a mystery!!!!!

We did some shopping in Kaikoura and were on our way to Clarence when we realised we still had no gas for cooking or making
coffee. Whow! how awful, so we turned around and had to go back to Kaikoura. We ended up staying in a Top 10 camp site in
Kaikoura. We ended up with a very windy night, all night. Lars took me out to dinner and all we had to do was cross a road and
we we there.
While I was sitting there I noticed embers falling onto the road from I thought was a chimney but when Lars went to look it was a
cable pole across the road and part of it was smoldering. With the wind so strong, pieces were falling on to the road so we ask the
staff of the restaurant to called the electrical board who called the Police who called the Fire Brigade. The Top 10 camp site ended up
with no power for about 1 1/2 hours. It didn't get very cold but it was nice when the power came back. I felt terrible about what
I had caused but then I don't like fires anywhere else except in a fire place.
Kaikoura is a village that is Paua crazy so before we left I just had to have a look around and then we were told that just outside the village
is a lovely place were baby seals play under a waterfall, then it's up to Picton to take the Ferry the next day back to the North Island.
It may ended up with a rough crossing as the winds are picking up but then we have a cabin this time so it won't be too bad.
At Ohau Point we made two stops. The first was a mixed bunch of males, females and baby fur seals, they were all along the beach and up
the sides. The second stop was at a fresh water pond and waterfall where we discovered just babies playing while their mothers were out
fishing. It was undescribable, the babies were everywhere, in amongst the trees, sleeping on rocks and playing in a pool where a waterfall
is. More joined them all the time we were there. I was so close to a couple I could of touched them but I didn't want to scare them. They
are so adorable with their big brown eyes looking at you. Lovely.


Ohou Point, just outside Kaikoura The seal's playing in a pool made by the sea waves.



A baby seal taking a break from the waterfall. The fresh water pool where they all play.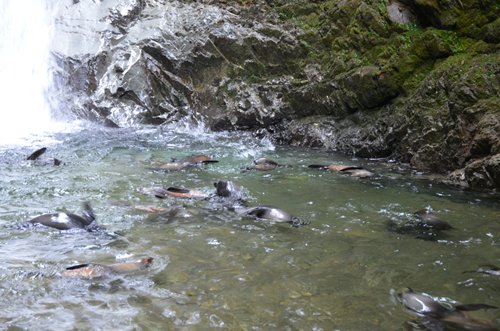 All the baby seals together playing, no adults around anywhere. 3 baby Fur seals off to find a quiet spot.

Then Lars took us on a white road again, which means dirt tracks. We have a tyre which is bald on the outer side. Something to do with the
balance or something anyway, I hope it lasts, it's making a horrible noise. It's as bald as Bruce Willlis's head, that's how bald it is.
We are on the Ferry tomorrow so it's a Top 10 tonight to catch the ferry at 8am. We have to be there around 7am, so it's an early start. The
couple at the Top 10 site are friendly and lovely couple. The site is very quiet and a peaceful place.

I slept all the way over to the North Island. It was worth the cabin. Lovely

We are in Wine country now. we have vines all around us. The wines are suppose to be very nice, reds and Reislings. We stopped at a little
place called Martinborough. The Top 10 camp site is small and very open. In the field next to us I can see 3 kites being flown by adults. The
site here is very nice, clean but not many showers or toilets, just 2 of each. I hope it doesn't get busy in NZ summer. From where I sit I see
a huge green field and further on is a beautiful white church. We have many smaller hills around us and they say, the locals, that in this part
of the country they don't get much rain so we had to be careful when we were showering.


The vines strech out for miles in all directions. The vines next to our Camp site.




A lovely Black Swan, seen while we we stopped for lunch. A very fluffy piggy who was very sweet.

We stayed in Waipukurau and had a wonderful time. Lars came back from his walk and asked if I wanted to go to the cinema. We did and the
new couple running the cinema and restaurent next door were so friendly and helpful. After watching Transformers in 3D, we stopped at a
place called The Stables and Joy and her husband made us very welcome. The food was amazing and both Lars and I had dessert/pudding of
Pavlova and fresh fruit salad. Fantastic.
The Camp site where we stayed was beautiful and both TC (TeArohanui) and Don Scott made us welcome and are very friendly. They have 3
dogs, 2 from RSPCA, Blaze poor thing, was breed for fighting but is scared of his own shadow so the owners got rid of him. Shadow is also
from RSPCA and is a completly black long haired chihuahua. Breeze, who is a white poodle is called No Ears because she only listens when she
wants to. She came from the vets.
Whow what a great time we had here in Waipukurau. Everyone has been so friendly and nice. TC and Don are also volunteers in the Firebrigade.


This is a tree which I'm looking for the name?? This is what the flowers look like!??


On our travels further East we came across some wonderful things we just had to have in our blog.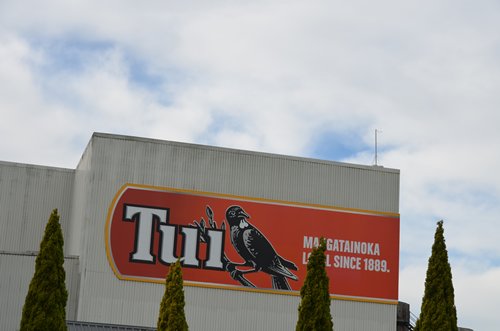 The Biggest White Kiwi we've seen anywhere................................................................... and for all you men "The Tui Brewery".


Right, lets see if we can get this sent this time. I'll be back again soon.


Love Caroline and Lars x









---