To Ushuia cont.

Dawnbreaker
Lars Alfredson
Mon 12 Dec 2011 21:22
08122011 Bahia Relegada toUshuaia
We awake to flat calm seas and after a bit of kelp cutting were on our way back into a placated Beagle Channel. As we motor past each of the
Perfectura outpost we are called up and ask the same questions, how many on board, ETA, last port of call. Don't they communicate with one another we ponder?
Entering the Beagle channel Snowcapped mountains
As we pass Puerto Williams on the Chilean side of the channel we pick up "Anne Mari", a yacht we had moored alongside us in Puerto Deseado on our AIS.
She's heading towards us and we alter to an intercepting course. They spot us and waving come alongside where the usual pleasantries are exchanged
and they advise us they are heading for Cabo de Horno the last stopping point before heading for Antarctica.
Anne-Mari fra Norge Beagle channel chat
Then we're off on our separate ways. The Channel is still flat calm as we glide through feeding frenzies of Penguins, Terns and Cormorant as they
attack shoals that have been foolish enough to get too near the surface. The distant mountains are now flank us as we see Ushuaia in the distance nestled at the foot of a high snow covered mountain range.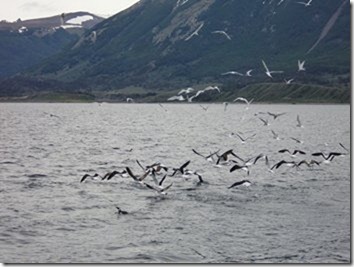 Feeding time, spot the penguin
Although the it seems near it still takes another two hours before we get into port and are directed onto the Jetty.
This already the home to a flotilla of Antarctic Yachts rafted up against each other on its cramped sides. We are greeted enthusiastically by those on the Jetty.
Non more that by "Rocky" the large shaggy dog off "Grey Goose" the French yacht of Yves, Karine and Enzo, we had last seen when we sailed together back in Brazil.
Our French friends and Rocky AFASYN Jetty
We hadn't even finished tying up when Rocky leap aboard, and we received our hugs and kisses in the best French fashion from Karine and her son Enzo.
Where was Yves? Then a strange hairy man appeared looking familiarly seasonal. Yves now sporting a fine white beard and the previously shaved head had sprouted
a fine matching thatch around the helicopter landing pad.
The Perfectura who were in attendance directed us to their offices at the other ends of Town, so gathering our paper we set off to do the necessary.
On the way past the Clubhouse we met Roxanne, mother to all yachtsmen, a fount of knowledge and multi-lingual, slipping easily from English to Spanish to German etc.
Club House Roxanne
Paperwork done we explore the town looking for a suitable lunch venue and restaurant for the evening. As in all of Argentina the "Parrillas" or steak houses
had their big open fires with whole lamb spit around them and bar-b-q grills cooking the most enormous and succulent "Lomo" , sirloin steaks.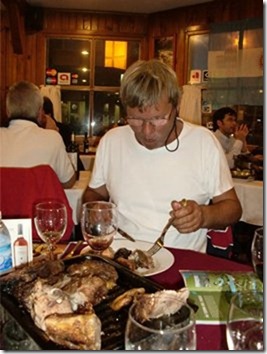 On the grill After grilling
The other speciality of the region is King Crab, a large spider like crustacean around half a metre across from leg tip to leg tip, lovely!
The town itself looks very Scandanavian with single and two story clapboard buildings and steep dormer pierced profiled metal roofs.
These were of predominately red and green and mixed in amongst the concrete multistory office and hotel buildings. Many of the houses were
painted bright primary colours and with the surrounding snow capped mountains added to the northern feel.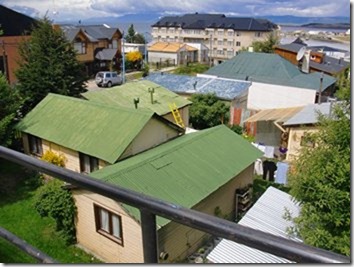 Downtown Ushuia
Back to the boat to it tidy up and for happy hour, then to the club to use their Wi-Fi before a wondrous hot shower and a polish job ready to hit town and partake of the delights of downtown Ushuaia.
Having found a suitable restaurant and well filled, it was off to try the second Irish bar, having explored the other on our earlier expedition.
This one was packed and very popular, serving food (I don't know how) in amongst the crush, and pints of the locally brewed "Beagle" red beer, and very nice to.
Irish Pub no1 more penguins
Bob the Blog
---