Diving day

Dawnbreaker
Lars Alfredson
Sun 7 Jul 2013 03:44
Pos 16:41.48S 179:53.46W
20130706 Deep Blue
Everybody's up at 7 doing their emails and getting breakfast and their gear together. We have two sets of "BCD's" (buoyancy control device) and the appropriate multi headed regulators aboard. I opt to snorkel and realise not only how old I am but how much things have moved on since I last dived 25 years ago.
In our day, those of us of the Jacques Cousteau period, of single hose regulators iron tanks and carefully adjusted weight belts were really the pioneers of the sport though as a founder member and chairman of three international clubs I feel like a bit of a dinosaur today
The dive boat pulls alongside at 8:30 crewed by three Fijians, one of which is a rugby player and on seeing the Welsh flag informs me of the progress of the British Lions tour, the fine play of the welsh members of it and where best to see tonight's final game.
Kitting up. Under instruction
Picking up the rest of the divers from the dock we head out at 45knots pushed along by a 225horsepower outboard. Half an hour later we're off the reef wall. The water is clear blue and the drop off is pretty shear. The wall is covered in colourful soft corals with a whole range of fish both in colour and size including many Grey Sharks and Barracuda in abundance
Tonton in and under
Grey shark Turtle
George' my rugby playing Fijian is appointed to go with me, as the only snorkeller and we head to the top slope of the reef. There's a big swell and strong current that shoots one up like and express elevator then drops you three metres down toward the coral below with equal speed.
White whale? My escort
My camera battery runs out with perfect timing as all the divers have returned and are back aboard. Before the second dive and to keep within limits we're "jet propelled" to the beach of a nearby island where soft drinks and peanut butter and jelly sandwiches are produced. Those Yanks have a lot to answer for!
Lunch break under the banyan tree
Back aboard and the Fijian dive master outlines the route around the reef on a chalkboard, and sets the dive limits in terms of air and depth expected. After they have gone George my escort and I are taken at the usual breakneck speed by Gerry the captain of this rocket.
Is it a worm? Colourful soft coral
As explained there is quite a current over this site which lies between the two large islands and is centre channel. The reef is magnificent and in very good health though one of the first things I spot is a Crown-of-Thorns starfish.
Just before we start back George is tugging my arm and pointing at something but I fail to see it and it's not until we're back in the boat that he asks if saw the White Tip Shark
The boys had a much better dive the second time and saw turtles, barracuda and lots of White Tipped sharks. Apparently it's was a shallower dive with a bottom they could see and clearer water.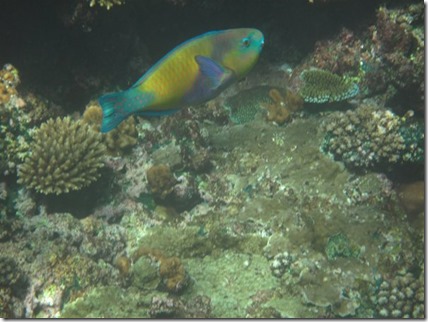 Moorish Idol Parot fish
We're dropped back aboard Dawnbreaker and armed with knowledge of location of a restaurant with a large screen TV, its anchors aweigh, as we move up the coast.
Pulling in just beyond a three masted ship that appears to be a big diving tour boat, we have some trouble finding it's exact location. We useGoogle Earth for a satellite picture to locate it, and then finding their website call them. Isn't technology wonderful when you have a web link.
Live aboard dive boat. Restaurant with no TV
Again, no room at the inn (Though there could be something in a months time) and a broken TV dashes all hopes of watching the game.
We sulk in our cups eating our "Chinese" beef in oyster sauce with boiled rice and carrots mixed.
Unfortunately our torment is not yet over. At 1:30 in the morning Tonton and I leap on deck woken by the deafening roar of the torrent that pours down our hatches as the heavens open. The galley is awash and Tonton's bunk has taken a hit.
Then the swell starts, at 90 degrees to the wind, so its rock and roll all night. It's hell at sea.
Bob the Blog
---