Mot Bùzios

Dawnbreaker
Lars Alfredson
Fri 25 Feb 2011 20:36
Pos 21:31.00S 40:30.28W
Hej/Hello !
Vitória var en nödvändig angöring för mat och vatten. Det vi ochså fick hjälp med var utombordaren. Nu går den som en klocka igen.
Sen eftermiddag lämnar vi Vitória. Tyvärr finns det ingen vind så motorn får jobba. Natten blev inte så rolig.
Ett antal timmar med regn och mycket stökig sjö. Tyvärr ingen vind för att få lugnare gång. Påföljande dag blir det sol och även vind.
Men då händer det som hänt en gång tidigare. Fästet för storskotet längst akter över på bommen lossnar.
Med detta startar ett febrilt arbete med annat som ochså behöver översyn. Inget ont utan något gott med sig.
Angöringen till Búzios görs sen kväll. När vi sitter i sittbrunnen med ankardram och hör livet inne i vid stranden kan inte Urban och
Thomas hålla sig, utan tar dingen in till stranden. Detta är ett "hett ställe".
Vitória was a necessary stop for food and water. We also managed to get the outborder fixed. It now runs perfect again.
Late afternoon we leave Vitória. There is no wind so the engine has to work. The night was not so fun. Lots of rain and wawes but
not enough wind to steady the boat. Next day we get sun and wind in the right direction. Then it happens what have happened
once before, the bracket for the mainsheet brakes on the boom. This starts a day of maintenance. Every bad thing have
something good with it.
We arrive Búzios late evening. When we are sitting with our "ankardram" and hear the music from ashore Thomas and Urban
can not sit still. They take the dinghy into the beach. This is a hot place.
Farfar på väg mot Búzios
Granddad on the way to Búzios
Lyckad reparation Rensning
Successful repair Tidying
Putsa Segla
Polishing Sailing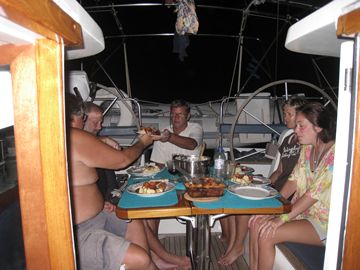 Middag
Dinner
Urban
---