Fishing port

Dawnbreaker
Lars Alfredson
Mon 24 Oct 2011 18:30
23102011 Mar del Plata
After a quiet night onboard Lars decides its time for one of his yomps and we set out to explore fishing port and harbour beyond.
Abandoned silos Driving up the wall
The main port is chock a block with fishing boats and Sea lions vie for position on dockside hauling their great bulk up over a metre to gain their place in the sun.
A couple of dogs stand barking at them but they just lift their noses in the air and ignore them as an insignificant annoyance. Every now and then one will slip
back into the water to cool of and its place is soon taken by a return another with a great wallow and plop.
We head on towards the beach passing the quad bike school and its course on the sand dunes and then turn off onto the enormous harbour protection wall.
As we walk out on this long mole which runs for at least a kilometre to the harbour entrance a beach alongside has been wired off.
This is a protected area for even more Sea lions and some hundred or so are sunning themselves, looking like an obese Blackpool.
Needless to say you smell them before you see or hear them and the odour of rotting fish leaves a lot to be desired.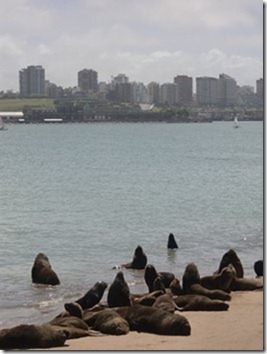 Along the way we pass the floating docks containing Fishing boats for repair and several very large wreck that lie half sunk and very much beyond salvation.
At last we reach the end with its statue of the fishermen's patron saint, arms outstretched, and welcoming boats into the safety of the harbour.
Fortuitously there is also a restaurant where we settle down to lunch and a well earned beer before heading back.
The rest of the afternoon is spent recovering. Thomas has prepared our evening meal of stuffed green peppers and issues cooking instructions as he is
off out again for another night of reverie and leaving us to our own devices.
Dinner is cooked and very nice it was too so its out with "Mexican Train" game which is eased along with a glass or two of Argentina's best and we spend
a very pleasant evening aboard, made all the better for me winning !
Thomas returns early and sits on the sidelines and throws in his five pennies worth of wisdom when it comes to some dubious interpretation of the rules
but its all good humoured and more wine than blood is spilt.
Bob the Blog
---