Taha'a - Bora Bora

Dawnbreaker
Lars Alfredson
Sat 23 Feb 2013 14:18
Pos 16:32.22S 51:44.79W
Jag bara förbereder mig / getting ready
Bora Bora dyker upp
Torsdagen startade med att vi tog dingen till Coral Garden för att undervattensfilma den härliga "forsränningen" där vi
låter oss åka med strömmen iförd snorkel och bara styra lite med armar och fenor i c:a 300 meter.
Massor av olika fiskar samt massor av otäcka sjöborrar som man inte vill vidröra.
Tyvärr så funkar inte Lars undervattenskamera så det blir ingen filmning, vi får memorera upplevelsen.
Sedan beslutar vi att segla till Bora Bora som ligger bara 30 distans bort. Härligt väder och bra vind tar oss snart över havet
och vi anländer lagom för sedvanligt bad och Happy hour. Kvällsmiddag på lokal restaurang.
Thursday morning we took the Dinghy to a "coral garden" to film the fantastic ride between the corals. It feels like flying
when you when you float with the current in your snorkeling gear and just have to stear a bit now and then.
Lots of nicefish but also sea urchins that are not so nice with their long spikes. Unfortunately the camera don't want to work so
we have to memorise the experience.
Around 11 am we decide to sail to Bora Bora some 30 NM away. Beautiful weather and a nice wind soon brings us to Bora Bora,
where we arrive in time for a swim and Happy Hour. Dinner in a local restaurant.
Healthy Happy Hour with fruit!
Idag Fredag skall vi ta oss ut till en plats där man matar Haj och Rocka. På med utrustningen och i vattnet.
Här är både Hajarna och Stingrockorna lite större än på Moorea där vi gjorde en liknande snorkling.
Lars kamera funkar nu så några bra bilder blir det. Lite pirrigt med Hajarna men de rör oss inte och vi rör inte dem heller,
Stingrockorna däremot är sammetslena och lite mysiga trots sin storlek på c:a 1 meter.
Today Friday we went to a feeding place for Sting Rays and Sharks. Snorkeling gear on we take to the water. Here both the Sharks
and the Sting Rays are bigger than on Moorea (more tourists to feed them?).Camera now working we get some nice pictures.
A bit scary with the Sharks but they are not interested in us. The Sting Rays on the other hand come close and are very soft and cuddly..
Haj på daj.
Rockar fett
Efter lunch så motorseglar vi vidare innanför Bora Boras rev och skall nu kolla in den berömda restaurangen
Bloody Mary där vi har tänkt att äta middag någon kväll, beställer bord till nästa dag.
Eftermiddagen fortsätter sedan med ytterligare en snorklingstur till en annan Coral Garden, dock inte lika bra som den på Taha'a.
After lunch we motorsail inside the reef and stop to check out the famous restaurant "Bloody Mary", where we book a dinner table
for Saturday. When we have anchored in Rofau Bay, we do another snorkeling tour to a "Coral Garden", not quite as nice as the one
in Taha'a.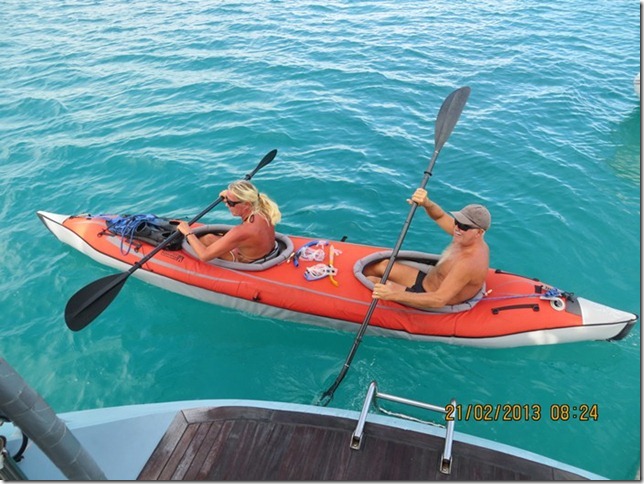 / Dawnbreakers crew
---