Morro de Sao Paoulo

Dawnbreaker
Lars Alfredson
Thu 17 Feb 2011 23:10
Pos 13:22.84S 38:55.51W
Vi har nu tagit oss en bit söder över. Detta innebär också att vår kontakt med omvärlden via nätet är mer sporadiskt.
Igår gick vi in i en flodmynig och ankrade. Lena har nu fått oss att inse att viss motion är nyttigt. Promenad väntar.
Men första motionspasset är att få igång motorn. Ro är inte att tänka på. Strömmen är runt 3 knop.
Väl iland skuttar Lena iväg. Vi andra hänger på. Det blir bilder från detta vid nästa blogg.
Nedan kommer från vår vistelse i Morro de Sao Paoulo.
We have now sailed a bit south. This also means that our contact via the web is more sporadic.
Yesterday we entered a river mouth and ancored. Lena has made us realise that exercise is good for you. Long walk awaits.
The first work out however is to get the outbord going (it has developed a sickness). Rowing is out of the question, the current
is more than 3 knots. Ashore Lena takes the lead and the rest try and follow her pace. Pictures of this in the next blog.
Below some pictures from our stay in Morro de Sao Paulo.
Torghandel Market stands Baren har öppnat The bar is open
Efter solsken kommer......... Ösregn
After sunshine comes.......... Rain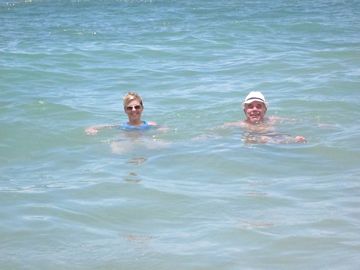 Ligger man och flyter och längtar efter en kall dusch. Motion är viktigt, men inte jämnt
Floating longing for a cold shower Excersise is important but not always.
En halvkokt hummer Sillmiddag
Lobstercoloured Herring dinner
Två fiskar som sedan blev middag. Vår ankringsplats igår Camamu
Two fishes that later became dinner Our anchorage at Camamu
Vid pennan Urban
Urban at the pen
Karnivalsgänget
---