Coroa do Avião

Dawnbreaker
Lars Alfredson
Wed 5 Jan 2011 20:01
5th January pos 07:48.84S 34:50.44W
We left the river mouth very early 5.45am and because there was no wind motored
for awhile. I wasn't feeling very good and felt terrible all day. At 8.45am we had some
wind but only just for our trip to Fort Orange and Cora do Avião. The Itamaracá Island
where the ruins of Fort Orange were built in 1631 by the Dutch. Coroa do Avião is an
amazing sand bank which is a nesting grounds for migrating birds of all sorts.
Coroa do Avião Island
We arrived around 17.45pm after having help from a young boy because of all the sand banks.
He was very careful that the depth was enough for us to get through. Not many boats our size
can make this passage without help from a local as the sand banks are quite extensive and
dangerous. We dropped anchor inbetween Itamaracá Island and Coroa do Avião Island.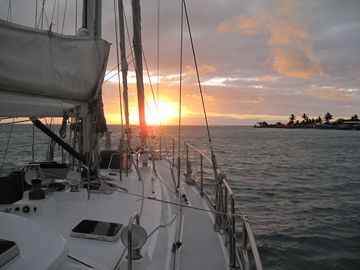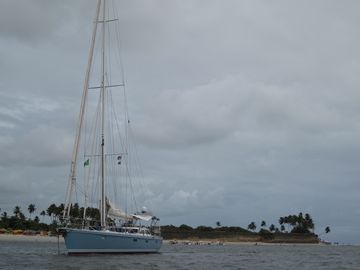 Sunset in the mornng Dawnbreaker moored between the Islands
Thomas cooked dinner again with Shepards Pie and Flambeé banana's, very nice. After I
was so tired I went to bed very early, I think it was all the rocking and not feeling so great.
---