27th December

Dawnbreaker
Lars Alfredson
Mon 27 Dec 2010 21:03
HAPPY BIRTHDAY ERIC and HAPPY CHRISTMAS TO ALL
Lars and I have had a lovely couple of days with Eric, Ann, Lisa, Fredrik, Tomas,
Lena, Niklas, Anna and Andreas. We drove 2 1/2 hours to the most amazing
Hotel on the side of a fantatic rock formation. It was a long walk down to the beach
and alot of steps but it was lovely.
The cliffs from the Hotel The beach and waves
When we arrived and had checked in we made our way down as everyone was on
the beach waiting for us to arrive. It was Eric's birthday (I won't tell how old).
We had a wonderful lunch of Steak sandwiches and fries. Tomas gave Eric a
key ring for his new boat from all his family. It was a very rude keyring but it won't
sink. (I'll let you all use your imagination). Lars and I had with us a bottle of the local
beverage called Cachaca. Everyone sang and said that it was a special moment with
us all sitting on a beach, near the sea and a temperture of about 33 C. It's not often Eric
celebrates his birthday in a place like Brazil. I hope he will remember it always.
Eric's birthday lunch
The waves break very powerful on to the beach. When Lars and I decided it was time
for a swim, I found it very hard to get anywhere. Every wave was so powerful that
sometimes
they knocked me over. Lars in the end went head first right into the wave and managed
to get the other end where it was a bit more quieter. I didn't get very far before my legs
started to shake from all the energy that was needed to keep upright. The sea was very warm,
not cold at all.
Christmas Eve and we gathered at Tomas and Lena room for christmas presents and
champers. We had all bought something little and threw a dice to see who would be
first to pick their present. Afterwards we continued with a great game of Quick change.
First we had to show everyone what we had as a presnt then we threw a dice and if you
had a 3 we, if we wanted to, changed our present with someone else. There was a
Brazilian flag that was very popular, Uno game, a Father christmas figure, socks, local arts
in a form of a doll (that was popular also), a football, a bat game, CD's with Samba and
Carnival music,(which Lars ended up with), a bracelet and a local hat, (that's what I ended
up with). We had 10 minutes, throwing dice and quick changes. It was lots of fun.
Tomas's new Christmas hat Christmas dinner
We stayed at the Hotel and had a very nice Christmas Eve dinner. No christmas pudding
or Ham but lots of other nice food.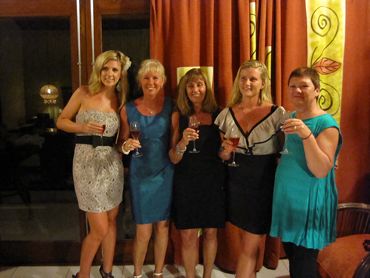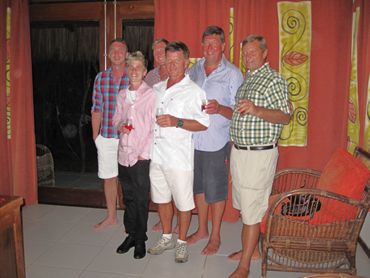 The party girls The party guys
The Hotel was lovely. The gardens were very well looked after. There are monkeys, tiny ones that came and sat with you if you gave them fruit. Iguaners that are about 1 meter long, lizards and lots of lovely coloured birds.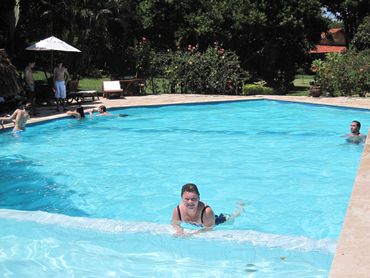 The swimming pool The entrance to the Hotel
If anyone visits PIPA in Brazil, stay at the Ponta Do Madeiro Praia Hotel. It's fantastic and well worth a visit.
One of the lovely flowers The view from our balcony
Still no luggage, so I've been shopping for a few items so I don't have to wear the clothes
I came in. I've met a Doctor who helped with most of my medicine but the most important
one is hard to get here in Brazil. With help from Gerd and Jonas I now know where most
of my luggage is and hoefully the important one will arrive at the Airport tomorrow. TAP
has every sort of info we have here at the Marina. Fingures crossed that I'll get my bags
before the New Year. Thank you Gerd for all you help.
To everyone reading our Blog, A VERY HAPPY NEW YEAR TO YOU ALL. Love you all.
Caroline and Lars in Jacare Village Marina.
---