Auckland - Miranda

Dawnbreaker
Lars Alfredson
Mon 12 May 2014 09:17
Auckland - Miranda
Position 37:12.44S 175:20.02E

Today we're off to Auckland and the big City.




The traffic was the first thing I noticed. Lots of cars all trying to get into 2 lanes or
3 or 4, to different parts of the town. From the biggest bridge into Auckland we
could see The Sky Tower. We slowly eased our way into the center and found a
parking place straight away. Lars has been here before so he knew where we were
going.



Come and have a read.



The annual "Falun Dafa" day (Falun Gong) was celebrated in the center of town.


The Giant Sailing Yachts are wonderful to look at and a few of them Lars has seen
in different places along his journey. The Harbour reminds me of Göteborg harbour.
The walkway is different but other than that the whole town feel like I'm in
Göteborg.
Lots of traffic jams going into Auckland. It's a huge city with 1.5 million people. All
along the harbour are ferries going to the Islands around the area i.e Stewart Island,
Waiheke Island and Rangitoto Island. Those are just a few of the local names of the
island nearest Auckland.




We had a lovely lunch at The Waterfront Restaurant. Lars took a picture for a change.
I had Sea Gulls, Pigeons and LBB (Little Brown B---ers, this is where they all are, here
in New Zealand, thousands of them, everywhere) looking at me while I had a wonderful
omelete.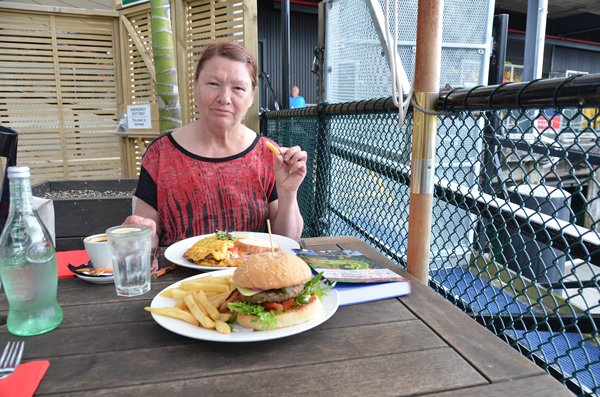 Going out of the city, we past the Sky Tower and took the highway out into the
countryside again. Quiet and peaceful, or so we thought. What we didn't know was
that on Sunday it was "Mother's Day". When we came into Miranda, where they
have a Hot Spring Pool, it was very busy, with lots of families for the week-end. I had
a lovely swim in the pool that was over 37.5 degrees. It felt hotter when we got in but
I only stayed in for about 1/2 an hour, my fingers started to get all crinkerly so I said
it was time to get out and have a shower to wash all the eggy smells out of my hair.
Miranda is nice and we enjoyed the Hot bath.




Caroline and Lars.


---