Vanua Lava, Sola

Dawnbreaker
Lars Alfredson
Wed 9 Oct 2013 07:11
Pos 13:52.40S 167:33.21E
Sola
Wedensday 2/10
When we were having our breakfast a canoe came out from the village and asked if we could take 3 passengers with us over to Vanua Lava. Off course we can, but they have to be here in an hour. We took an extra swim while waiting.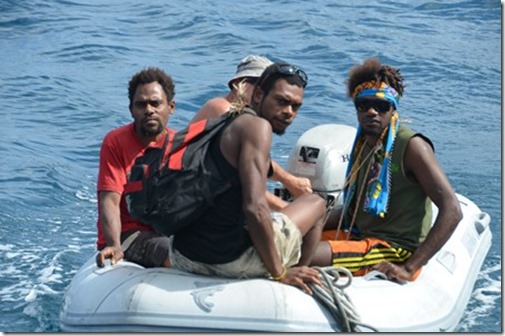 They turned out to be 3 brothers, Esekiel,Gibson and Tiphan. They had visited family here on Gaua needed a ride over to Vanua Lava, 30 NM away.
The wind was still fresh from SE so we just rolled out the No 2 Genua for the crossing. Our passengers was not so talkative, perhaps their English was a bit rusty or the wawes was a bit high.
When we dropped them off in Sola a few hours later, they had a 4 hour walk to their village on the other side of this roadless Island.
Sola is the main village of Vanua lava and also of the whole Island group (Banks Islands). While the rest of the crew took siesta, Mark and I went ashore to explore.
We headed for a jetty we saw sticking out in the water. When we had tied up at the end, we saw that it was a bit delapitated and it was like an obstacle course to get ashore.
Walking towards the village we soon came to a sign that said "Leumerus Guest House and Yacht Club". There we met Robert and his wife Sara. Unfortunately his "Yacht Club" had dissapered in a storm but he was working on fixing it up again. Robert filled us in on what was going on in Sola. Continuing up the road we heard music and went to investigate. On a field there was lots of people and the kids were dancing. Asking, we were told that they were celebrating Provincial day. Later when it was dark they were going to have some sort of "fire dance". We promised to be back for that.
Robert His garden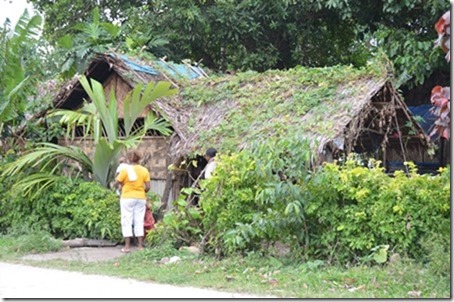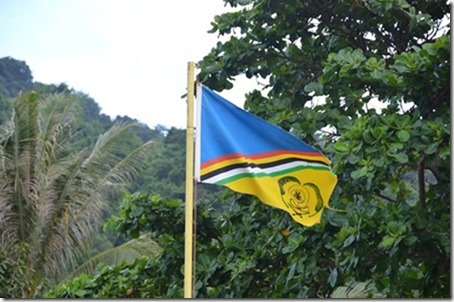 and Guest House The Provincial flag
When darkness has fallen the whole crew goes ashore to check out the "show". Once again we negotiate the obstacle course, this time in the dark. Alice loses a flip flop down a crack.We will look for that tomorrow.
We are made most welcome to the party. While we are waiting for the main attraction, we become the main attraction when the local women ask us up to dance.
The show turnes out to be performed with a "Black Light". The performers wear dark clothes and white gloves. whith there hands they illustrate beautifully some religious "love" songs.
We are asked not to take any photos, hence no pictures of the performance but it was very nice.
Warming up with some dancing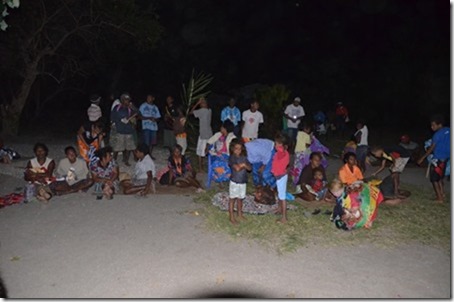 We have our own clown Spectators
This ends our day in Sola, tomorrow we head to our turnaround point, Uriparapara.
Good night,
Lars
---