Leaving Napier, the blogger debut

Dawnbreaker
Lars Alfredson
Sun 16 Nov 2014 13:44
POS 39:38.0003S 177:06.4088E
Cape Kidnappers, East side of North Island, NZ
Wind SE 15 – 20 knst
COG 186
SOG 5 – 9 knts
There have been to many complaints about the absence of our daily blogger. For those who don´t follow facebook, I drafted some interesting lines.
We have moved south to slowly to our taste. So just got as far as Napier, on Hakes Bay. Lovely city destroyed by an earthquake 1931. It´s city center was rebuild on the Art-Deco global mania style of the 30´s. And has been driving flocks of obsessive architects to town.
Public transportation though is not the strong point in Napier. I waited 100 minutes for the hourly bus on a Bus Stop where no bus stops. Go figure.
New Zealanders are lovely people and genuinely interested in Sailing experiences and sharing. We moored in the Napier Sailing Club and were extremely welcomed there. The weather though is another chapter. Extremely dynamic fronts come and go in hours what makes it so difficult to decide the departure window. after daily postponements', we ended up staying almost a week.
But the arrival of two cruise ships today, loaded with snowbirds from either Australia or the US helped our decision to leave and face the brutality of the southern ocean with its roaring 60 and 50 knots winds. Castlepoint became a landmark of fear and terror, with Metservices´ hourly promises of rollercoaster waves and twirling hairdryer turbulences. If the old snowbirds with their blue hairs and walkers made it to Napier, we certainly can make it out of here.
Excitement on board right now. ¨Dolphins, dolphins¨ I hear from aft. Run out and just missed them.
Down to my last Cider. Just love this stuff and would trade it for Tui any time. The boys are getting ready for night watch. I see safety harness been fitted and moldy life-vests, infest the air of the pilot house.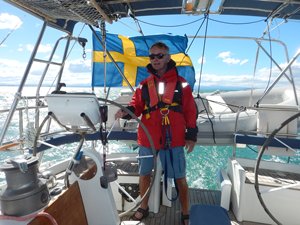 Our next destination Christchurch or what's left of it after the 2011 earthquake. ETA (expected time for ankardram – see note) 10:52 NOV 18th.
Note – Ankardram a Swedish tradition, well embraced on Dawnbreaker, requires an immediate shot of any hard liquor as soon as the anchor hits bottom.
DB Gossip column.
It took Lars one year to find out why women giggle and men cheer, when he mentions his boats name. And it was Peter an ex-paramilitary brown beret, now tug house boat sailor, to best describe this exciting definition. See note 3. Suffice to say that we need some female crew on board before a rainbow image is hoisted over our heads.
The new engine room jewel. Big boy bought himself a new tool SAFE cabinet to lock his precious bits and pieces. Only Thor knows what he keeps in there. But, usually it takes hours to find something.
Note 2 – Peter Gun Brookes, now our newly recruited crew for July – September season, has kindly recorded the definition on facebook´s Dawnbreaker group page.
Note 3 – A Dawnbreaker is the action to take in the morning when you wake up near YOUR beautiful wife/girlfriend/partner/tssp and you rollover here and put an early morning smile on her lips.
---