Finally on the move

Dawnbreaker
Lars Alfredson
Tue 4 Jan 2011 12:17
Today we actually had rain all morning. It's not cold rain which is very nice. Our plans are to move out of Jacaré Village Yacht Club, out to the enterance of the river.
Dawnbreaker moving into river mouth
Lars and our new crew member Thomas Heimann from Sao Paulo, Brazil but was born in Switzerland. (he's been sailing alot and is now on a 2 year time-out and wants to sail all over.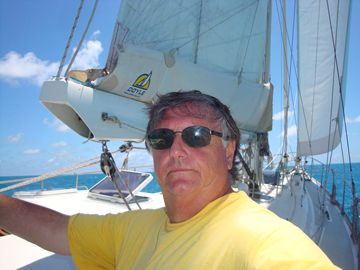 Thomas Thomas is doing all the cooking
He speak Brazilian which helps) went to Cabadelo to get Lars passport stamped for going out of this area. They took hours as I had asked them to find me postcards to send to my family but they are so hard to find. Thomas found some finally so I was happy. Thomas made dinner which was was very nice. Chicken in tomato sauce and pasta.
We had to wait for high tide which is around 16.00pm and motored only 3 nm to the mouth of the river. We're moored between to dredgers.
Sunset from Dawnbreaker Burning of Sugar Cane seen from afar
---