Cape Farewell - Christchurch

Dawnbreaker
Lars Alfredson
Tue 24 Jun 2014 10:41
Pos 43:17.23S 172:43.15E
Murchison


We,ve been to some very interesting places this past week. We started by
going to an old ruined town of Lyell and Zatatown. In the 1880 both town's
were overrun with thousands of people looking for gold. Now all that's left
is a very long walk way and a Hanging bridge over the river where gold was
found so long ago. Lars started the bridge swaying while I was in the middle,
I was terrified the thing would fall apart as there were only 4 steel bolts holding
the bridge up, 2 on each side. It really wasn't funny.
On our way to Westport we had to stop and take a picture at Kilkenny Lookout
of the road ahead that had been carved out of the rock. It had been done really
well and was even high enough for the larger lorries to get under as well.



The other side of the Hanging bridge and beginning of the walkway. Kilkenny Lookout and the road cut out of the mountain


Before we got to Westport we made for Cape Foulwind, to check out
a seal colony. Before went along the path we met some very strange
birds that were very tame. We discovered they were called Weka's.
The 2 in the carpark we found took food from my fingers but then we
found a signpost with lots of information and on one side it said not
to feed Weka's as they need to forage after their own food. Naughty
me. We also found out that to see Weka's was very unusual as they
are suppose to be very timid.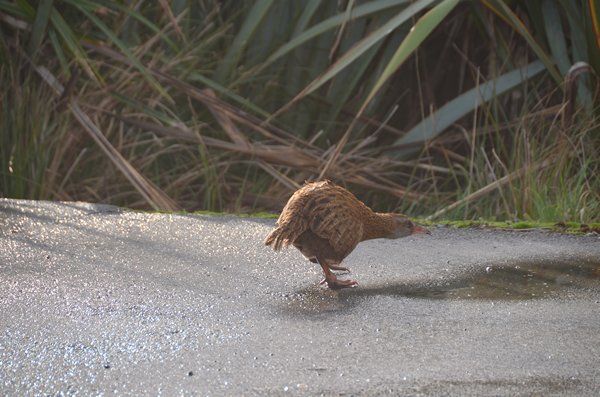 One of the Weka's checking me out. Feeding time for both of them.


When we finally saw the seal colony it seemed to be arranged
as a family. Two expected mothers were on one rock, other
mothers were feeding and the babies that had their mothers
going looking for food were looked after by the Big Daddy and
a couple of other females. It was so beautiful to see it all
happening and the baby females were marked with pink and
a couple of baby boys were marked with blue. The Colony
is looked after alot as they seem to be getting smaller in numbers
so a close eye is kept on all the new arrivals.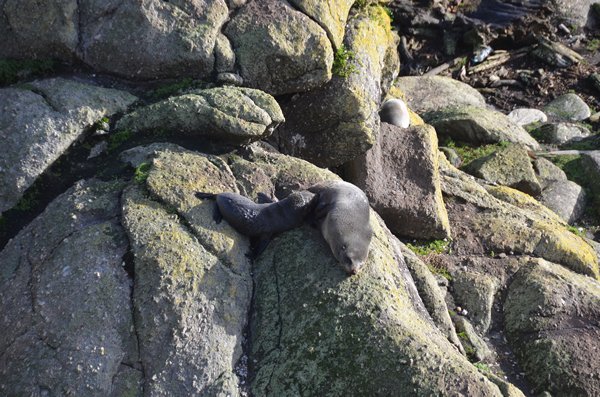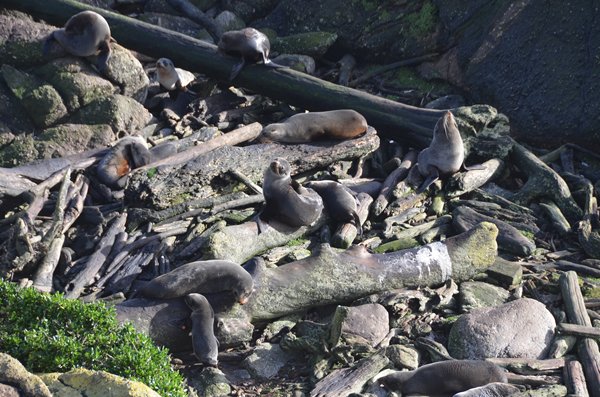 Feeding time Big Daddy on the right with the whiskers and the baby playpen.

From Westport we took the road down south towards Greymouth.
We were only going to stay 1 night but we got caught in a terrible
storm with lots of thunder and lightning. The rain just poured down
and as I ask to see Shanty Town that wasn't far we stayed an extra
day. We didn't do much as it rained all day and all night then suddenly
it cleared and we continued on with out trip to Shanty Town and the
Steam Train.
When we arrived at Shanty Town it was built just like a town in 1860's
with a Saloon, Hospital, Jail and Shops selling all sorts of goodies. There
was even China Town and showed how the Chinese lived in those days.
Terrible, with very little pay.



The Steam Train "Gertie". The Front of the train.





Our Driver getting ready to start. Shanty Town.


After leaving Shanty Town I sent us down the wrong road and
we ended up in what looked like a gold mining operation. We
quickly turned around and went on the right road through the
snowy mountains. The temperture went down fast as we went
along, down to 2.5 C.
We took a brief stop at "Punakaiki" and the Pancake Rocks and
Blowholes. I only saw the Pancake Rocks that were layered as
if they were walls of round rocks melted together. Rosie had
stopped working half way along the trail so I just had a look at
the first Pancake rocks that were very close. Lars went to the
end and when he came back said, that the waves weren't hard
enough to get through the blowholes and that they were
difficult to see.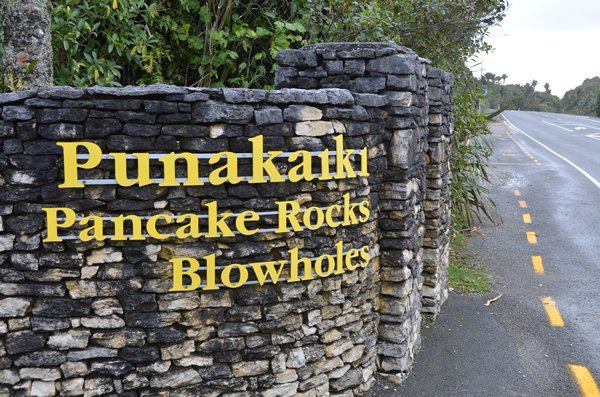 "Punakaiki entrance" The Blowholes and some of the Pancake Rocks



A better formation of the Pancake Rocks. See how they melt together.



Arthur's Pass at 920 meters, taken at Devil's Corner The snowy mountains


We stopped inbetween the mountains at a Camp Ground called
Springfield. It was just a little place with very few people living in
the village so at night it was glorious, to see all the stars around us.
It was such a clear night that I felt like I was able to nearly touch the
stars they were so close. It was a beautiful sight.

When we arrived at Waikuku Beach we took a look around as there
wasn't anyone at the office. It was huge and took ages to get around
it. I had had enough walking the past few days so I took it easy. Lars
was going to check-out the beach for me and tell me if it was anything
to look at. On his way back he came across a very strange looking
object which we found out was a mushroom that had come from
what looked like an egg and was called a "basket mushroom".



The egg on the left and the "Basket mushroom" on the right.


Hope you've enjoyed this weeks adventures. More to come soon.
Bye for now.

Love Caroline and Lars x







---