Leaving French Polynesia

Dawnbreaker
Lars Alfredson
Thu 11 Apr 2013 23:54
Pos 21:12.27S 159:47.11W
Rarotonga, Cook Islands
Blog Mopelia, 11 april 2013
LEAVING FRENCH POLYNESIA
Vi är på väg till Mopelia. Låter som vi ska hälsa på en kvinna men det är den sista Fransk Polynesiska ön som vi ska besöka.
Vi tycker namnet, Mopelia, låter trevligt och det är det också.
We are heading for Mopelia. It sounds like we are visiting a woman but it is the last island in French Polynesia that we are
visiting. We think the name sounds nice and it also turns out to be a nice island.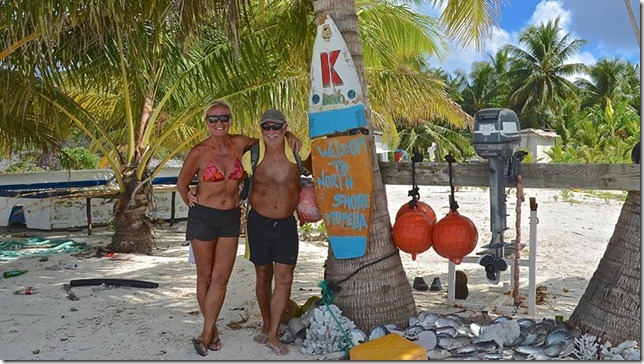 Det bor just nu 9 personer på ön och alla är släkt. Vi tänker ta en promenad genom palmskogen till slutet av ön.
Vi landar med dinghyn precis nära en "bostad", ingen är där förutom två stora cocoskrabbor som hänger i en palm.
Vi tittar lite närmare och tar fotos, plötsligt knipsar dom med klorna, whao, dom är alltså levande!!
It is now only 9 persons living on the island and they are all from the same family. We land to take a walk through
the palm trees to the end of the island. We land the dinghy near a "house". There is nobody around but we spot
two big Coconut Crabs hanging from a tree. We take out the cameras to take close up photos when suddenly
one of the crabs tries to bite us, we then realise they are alive!
Två kvinnor kommer och möter oss, hälsar oss välkomna på engelska! Det är Adrienne och hennes dotter Faimano,
två charmerande och trevliga kvinnor och Faimano pratar bra engelska, skönt att vi kan kommunicera.
Det är varmt inne bland palmerna så vi längtar tillbaka till båten och ett skönt bad.
Nästa dag är det dags igen för en liten runda på ön. Adrienne och Faimano står och väntar på oss.
Vi får var sitt vackert snäckhalsband och dessutom bjuder dom oss på middag på kvällen. Tack, tack vi kommer gärna.
Two women comes out to greet us, and they speak english!! It is Adrienne and her daughter Faimano (means Eagle Ray),
two charming women.Faimano talkes good english, nice to be able to communicate.
It is very hot among the palm trees and we soon long for a nice swim.
Next day we take another walk. Adrienne and Faimano is waiting for us. They give us beautiful necklaces made of shells.
They also invite us for dinner at night, Thank you we will gladly come.
Vi tittar på alla mini sköldpaddor som dom har samlat ihop i små bassänger. När de växt till sig ska de ut till havs igen.
Behövs verkligen för just i denna atoll finns det så många fåglar och hajar som vill mumsa i dessa små "bebisar".
We have a look at all the small turtles they have rescued from the birds. They keep them in small containers.
When they are bigger they let them out in the sea, and they can avoid the birds and sharks that eat them.
På kvällsmenyn står det cocoskrabba, Black Jack (fisk) och Poisson Cru. Kulissen är en underbar stjärnhimmel
med lite månsken, Dawnbreaker gungar lite lätt därute i månskenet och vi äter en fantastisk middag i trevligt sällskap.
For dinner we get "Poisson Cru" (raw fish polynesian way), Coconut Crab, and grilled Black Jack (fish). We have a
wonderful dinner in nice company, while Dawnbreaker rocks lighty in the moonlight.
Dags för nattlig "Coconut Crab expedition". Spännande!
Adrienne leder oss in i palmdjungeln, hon är "the real hunter", nu ska det bli krabba!!!
Det är mörkt och lite kusligt. Det dröjer inte länge förrän vi hon hittar ett praktexemplar som fångas med händerna.
Klorna är rena bultsaxarna (används till att öppna kokosnötter med) så det gäller att veta vad man gör.
En annorlunda fantastik kväll.
Time for nighly "Coconut Crab expedition". Exciting! Adrienne leads us in to the darkness in the palm tree djungle,
she is the real hunter! It is dark and a bit spooky. Shortly Adrienne spots a big one that she catches with her hands.
The big claw is like a bolt cutter (used to open coconuts), so you need to know your thing.
A very different and exciting end to a fantastic evening.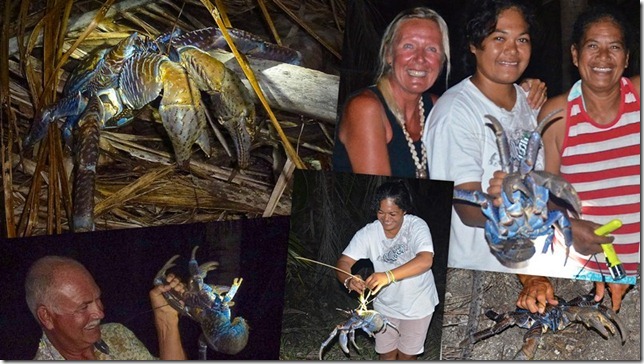 Vi skriver gärna i gästboken. Adrienne och Faimano bjöd på oförglömlig avslutning på vårt segeläventyr i Franska Polynesien.
We happily write in the guest book. Adrienne and Faimano gave us end to our adventures in French Polynesia.
Dags för passage, 430 nm, till Rarotonga, Cook Islands (New Zealand). Vi byter flagga.
Time for the 430 NM to Rarotonga, Cook Islands. We change courtesy flag.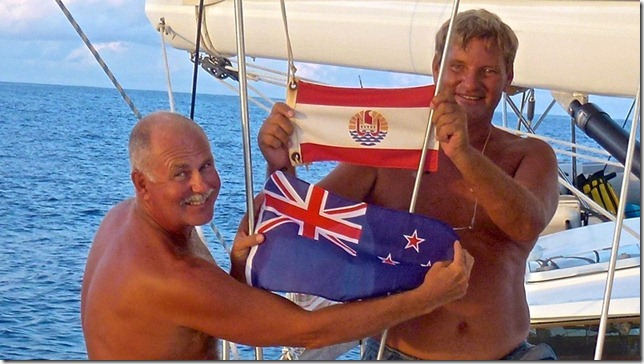 En trött Booby hälsar på. / A tired Booby takes a rest.
Fiskelyckan vänder. Vi landar en fin Dorado (Mahi Mahi), 5 middagar. Tackar!
Länge sedan vi njutit fisk och det smakar riktigt gott med kyld chardonnay.
We get lucky with the fishing again. We catch a nice Mahi Mahi, 5 dinners thank you.
It is a long time since we enjoyed a nice fish dinner with a chilled Chardonay.
Den 9:de angör vi Rarotonga efter 3 fina dygn med bra och rätta vindar.
The 9th we arrive at Rarotonga after 3 days with good winds.
Lars, Fred and Grete.
---