Night out on Airship

Dawnbreaker
Lars Alfredson
Thu 15 Sep 2016 21:04
September 13th, 2016
Night out on Airship
After a lovely day at the lagoon we moved over to Airship a Nordic Tug 32, for happy hour and dinner.
A change from our daily routine.
Laura and Kevin decided, after cruising around the US on an Airstream trailer, bought a motor vessel in 2014 and have spent over 450 nights aboard since then cruising around Alaska.
Savoring nibbles and bits at the upper deck while enjoying the sunset we exchanged our stories.
Dinner was marvelous with a fantastic view of the woods. Freshly caught Halibut on the grill and zucchini risotto. What a great night to top one of the best days on our trip.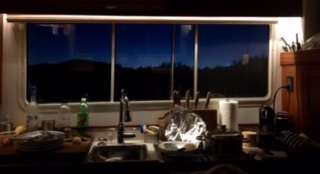 Thomas
Sent from my mobile device
---