Coromandel - River Glen (Sunday)

Dawnbreaker
Lars Alfredson
Wed 14 May 2014 09:32
Coromandel Peninsula - River Glen
Position: 35:56.55S 175:40.40E


Thank goodness we're out of Auckland. It was OK but I like to see the meadows, cattle
and trees.
What I didn't know before I wrote that little bit was how poor some of the roads are.
Some are no more than dirt tracks, one car roads and nothing on my side as usual
except valley's of trees and rock. Lars scared me more than once driving so close to
the sides that in the end I closed my eyes. My hands held on for dear life, hurt so much
that when I saw the sign to Rapaura Falls Park, I said, "Pull in here, NOW"



A Tortoise in disguise A lovely waterfall and me on Rosie


The gardens we really looked after, with ferns, grasses and bushes filling in the gaps. The Waterfalls were
everywhere, different kinds made out of some very unusual items, like the one above was made out
of very wide, deep dishes with only a pipe at the beginning to start the water flowing.

There were the trunks of the very high ferns that are everywhere in New Zealand and the insides
leave a wonderful decoration that the Mauri's make into boxes, candle holders and other
beautiful art.




Fern logs.

The Wishing Well was a must and the money all goes to children in need. I thought the frog
would show Julia that I was thinking of her when I saw him (someone tell her for me). We
continued around the Private Garden and there was Art everywhere. Sometimes I missed
things and Lars would point them out to me, Yes me.




Wishing Well This ones for you, Julia.



Face of beauty Waterfall with moss and baby ferns


The Face of Beauty I missed. It was in a tree trunk with a spider plant and clover of some sort.
The next waterfall was beautiful with tiny, tiny ferns and a plant I can't remember the name of.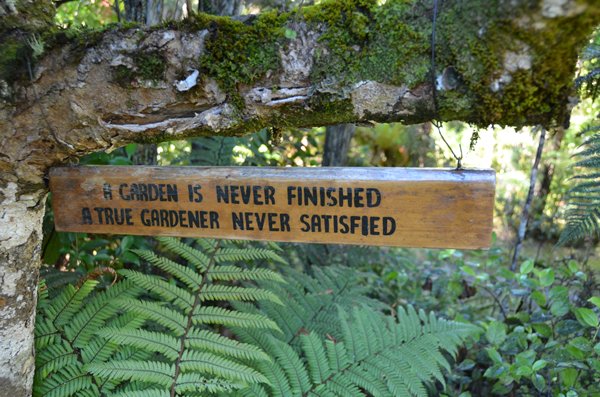 This was another I missed "Guess what it is" This is just for you Mum with all my love.



This is just very large leaves which I have no idea of the name An oasis of palm trees and Ferns



From the other side of the garden and the oasis


After we saw the oasis there was a bridge to a bigger Waterfall and it was a long
walk for Lars but with Rosie I managed the whole trip. It took about 1/2 hour on
Rosie up steep hills, over roots and rocks. Rosie is a fantastic machine for getting
me around. I had to leave her the last couple of minutes as there were lots of
steps to climb and the Waterfall was wonderful.



The Waterfall




Another type of spider plant growing on a tree trunk "The Square Kauri Tree"

After we finished at the garden of Waterfalls we were looking for somewhere to stay the night
and saw this sign that said "A Square Kauri Tree". We didn't have to go far to see it and there
it was. It is indeed square and grows above all the other trees around it. It's amazing.

When we arrived at River Glen Camping Grounds we were greeted by "Jimmy" the Parakeet.
Hello Jimmy was his remark. Jemma, who is the owner and runs the Camping Grounds
brought him out of his cage and he gave me a kiss. When we left the next day, Jimmy was
saying "Good-Bye Jimmy".
The Camp Ground was beautiful and quiet. We had a lovely evening and enjoyed listening
to the animals and wild life all around us.



"Hello Jimmy, Good-Bye Jimmy"

Did you Guess what it was in the picture "Guess what". It's a Dog of course.
Did you get this one Tomas H.?


Love Caroline and Lars
for this time. x



---