Rio 07032011 Monday

Dawnbreaker
Lars Alfredson
Tue 8 Mar 2011 00:37
Pos 22:56.72S 43:10.38W
Off to the supermarket to stock up on essentials, bread, tonic brandy etc before moving round to
Iate Clube da Rio de Janerio where a charge of R$30 a day seems a little more reasonable than
the R£500 (£240) at the Marina da Gloria.

Lovely bay with Sugarloaf mountain on one side and statue of Christ the Redeemer looking down
on us from the top of his mountain on the other. Both disappear ing into the clouds at regular
intervals and at night the floodlit statue looks to be floating in the air.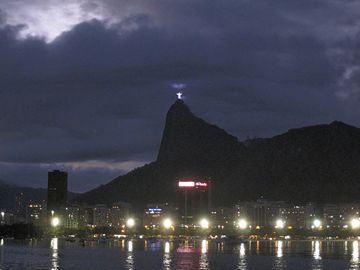 Christ is watching

Approaching the Club we are directed to suitable buoy only fo ourselves next door to
Grey Pearl a French family who Lars had met on the way down.

Iate Clube de Rio da Janerio Grey Pearl
Off to Ipenema in the evening to find the partying had been going on all day. After a long
exploration or the area we find a very nice Italian Restaurant a few streets away from the beach
and in a relatively quiet area. Wine prices can be a little excessive but the food was excellent.
Sugarloaf Mountain
Bob the Blog.
---